THINKTANK provides pneumatic globe type control valves for chemical recycling plants process, makes waste into products.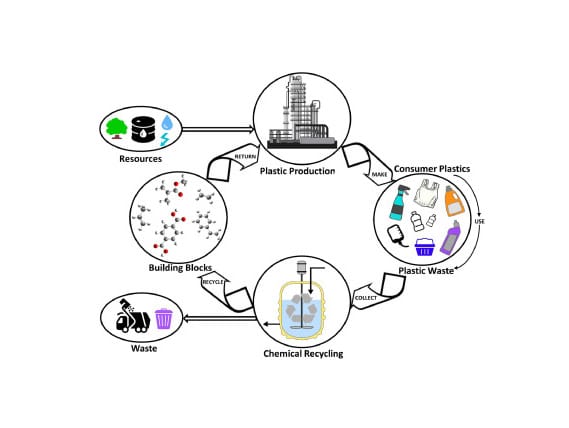 With the focus on environmental protection, plastics recycling technology is becoming more sophisticated, converting plastic waste into synthetic raw materials that can produce basic chemicals and plastics applied in the food industry and the packaging of medical products.
As an essential part of process control in chemical recycling plants, THINKTANK's flow control valves offer precise control, fast response, and a wide range of control strokes, allow
wing companies to meet their energy needs while striving to reduce their carbon footprint.
Reducing carbon emissions is now the responsibility and obligation of every business, regardless of the country, and THINKTANK supports all of our customers in their drive to decarbonize, not only in line with our long-term goal of making the world a better place but also to diversify, decarbonize and digitize our products and market operations.
Case Study:
THINKTANK provides 6pcs control valves for pyrolysis gas delivered to chemical recycling company
THINKTANK delivered 6 flanged pneumatic control valves for the pyrolysis plant of a plastic recycling company in Mexico.
These pneumatic control valves are particularly suitable for the operation of pyrolysis gases in the temperature range of 20 to 100°C.
Industry: Plastics Recycling Systems – Renewable Energy
Services: Based on the process parameters that the engineering company provided, we calculate and select the right size of control valves, as well as delivery of control valves and actuators in time. Product name: HTS series single-seated control valves with intelligent positioners.
Project: Plastic recycling using modern pyrolysis technology
Plastics Upcycling from Mexico uses plastic waste and makes it usable again through chemical recycling. The resulting pyrolysis gas and oil are recycled back into the value chain, saving fossil resources.
This technology makes less exhaust gas, fewer pollutants, and no secondary waste, such as fly ash. Pyrolysis is an improved combustion process with many advantages. All combustible materials can be treated in this way in an environmentally friendly way, for example, materials such as waste products of plastics or waste wood. The result is an unmixed residual waste that can be further processed without difficulty and used for power and heat generation. Thus, modern pyrolysis plants are more environmentally friendly than waste incineration.
Due to pyrolysis plant is an explosion-proof environment that requires all the electrical accessories of control valves should be ATEX approved. Also, the project is urgent, we have to deliver the goods in a very short time. 
6 PCS pneumatic control valves DN50 for pyrolysis gases were finished within two weeks, and cost one week delivery to the end-user, so the order was completed on time. Certified according to ATEX standards, they now ensure the safety of employees in the plant.
Product Details:
HTS series control valves
Nominal diameter. DN50
Pressure nominal CLASS 150
Valve body material. A216Cr WCB, Carbon steel
With Siemens SIPART PS2 digital positioner
About THINKTANK: THINKTANK is a branch of the Taiwan STONE valve group, which is a leading industrial valve brand in Taiwan, primarily focused on control valves, self-operated pressure regulators, high-performance butterfly valves, triple offset butterfly valves, axial flow check valves, etc. We have been exported to more than 42 countries, and serve a lot of valve and instrument brands(click here you can see what our customers say about THINKTANK). For more information, please visit our official website at https://cncontrolvalve.com/