Description
The eccentric rotary plug control valve has a one-piece body design and connects by flanged(ASME Class150 ~ 300, PN10 ~64) or wafer type(ASME Class150 ~ 300).
An eccentric plug valve is a type of rotary control valve which has a shaped plug. The plug doesn't touch with the valve seat until within a few angles of the close position. Due to the plug-shaped contacts or "cams" into the seat, its surfaces will dynamically align to get to shut off. This is the valve we called eccentric plug valves.
This valve with a plug-shaped component that follows an eccentric part as it rotates.
The plug will not touch the seat until it turns within a few degrees of the cutoff position. Sometimes we call the plug a cam, when it is into the seat, the sealing surfaces dynamically align to achieve cutoff.
The most common application for eccentric rotary plug control valves is for the medium with slurries, grit, or solids. They have high performance of control accuracy and wide rangeability with all the inherent benefits of rotary control valves.
Basically, the eccentric rotary control valves will be complete with a pneumatic actuator, digital/smart positioner, and air filter regulator for precise flow control.
Main Technical Parameters
Size: DN25 to DN100
Pressure Rating: 150LB to 300LB, PN16 to pN64
Initial deviation: ±3%
Dead zone: 1%
Rated travel deviation:50°±3°
Inherently adjustable ratio: 100:1
Leakage level:
Metal Seat: ANSI VI;
Soft Seat: ANSI VI;
Pressure recovery coefficient FL:
Full Bore: Flow to Open: 0.85; Flow to Close: 0.68;
Reducing Bore: Flow to Open: 0.88; Flow to Close: 0.70
A216 Gr. WCB(ZG25), A216 Cr. WCC,  CF8(ZG1Cr18Ni9Ti), CF8M(ZG0Cr18Ni12Mo2Ti), A352LC3   A352LC3

CF8(ZG1Cr18Ni9Ti), CF8M(ZG0Cr18Ni12Mo2Ti), CF8M+No.6

304、316、316+No.6、(316+PTFE)

316(0Cr18Ni12Mo2Ti), 17-4PH

PTFE
RPTFE
Graphite
Characteristic Flow Curve of Plug Control Valves
What Is The Difference Between Pressure Control Valve and Flow Control Valve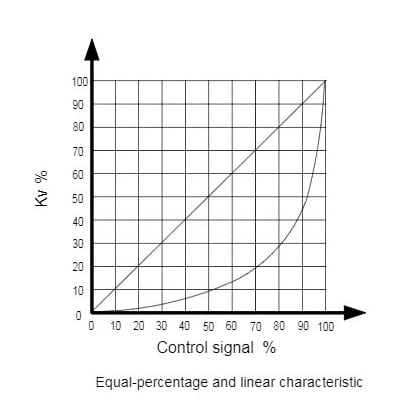 Air to Close Flow to Open

Air to Open Flow to Close

Air to Open-Flow to Close Air to Close-Flow to Open