Description
Two-Way Flanged Cast Iron Globe Valve Features
The face-to-face dimensions of the valve flange comply with ISA 75.03 requirements.
Close-off up to 250 psi.
Direct-assemble, standard bonnet.
Bronze or stainless steel trim.
Standard- or high-temperature packaging.
Rangeability of more than 100 to one.
Equivalent proportions or properties of linear flow.
Only a 3/4″ stroke is available in the 2-1/2″ and 3″ sizes, while a 1-1/2-inch stroke is offered in the 4″, 5″, and 6″ sizes.
Cartridge-type packing for convenient servicing.
• ANSI Leakage Class IV (0.01% of Cv).
Available for purchase as a full valve/actuator combination or as a valve separately.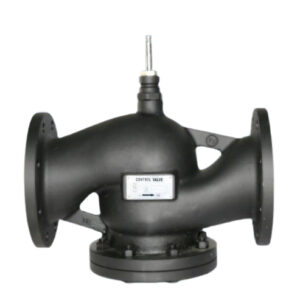 Two-Way Flanged Cast Iron Globe Valve Applications
The Flowrite Two-way valves are designed for situations of water, steam, and glycol up to 50 percent. The following are extra specifications:
Water upstream pressures as high as ANSI 125 and ANSI 250 cast iron body rating.
Water modulating differential pressure as high as 25 psi (172 kPa) for bronze trim and 50 psi (345 kPa) for stainless steel trim.
Steam inlet to 100psig with adjustable differential pressure to 50psi(345 kPa).
Technical Parameters
Valve Size …………………………………………………2-1/2 to 6" (65 to 150 mm)
Body Style ………………………………………………………………………….Flanged
Seat Style ……………………………………………………………………… Single Seat
Action ………………………………. Normally Closed (NC); Normally Open (NO)
Valve Body Rating …………………………………………… ANSI Class 125 or 250
Stem Travel (Stroke)
2-1/2 and 3"…………………………………………………………….. 3/4" (20 mm)
4, 5 and 6" ……………………………………………………………. 1-1/2" (40 mm)
Materials
Body ……………………………………………………Cast Iron ASTM A126 Class B
Trim…………………………………………………………. Bronze or Stainless Steel
Stem………………………………………… Stainless Steel ASTM A582 Type 303
Packing
Normal Duty Packing…………………………………………………. EPDM O-rings
Steam Packing……………………………………. PTFE V-rings and EPDM O-ring
Operating
Controlled Medium …………………………………….. Saturated Steam, Water,
Glycol Solutions up to 50%
Medium Temperature Range
Normal Duty Packing…………………………………..20 to 250°F (-7 to 120°C)
Steam Packing…………………………………………………..337°F (170°C) max.
Max. Inlet Pressure
Water……………………………………………………..Refer to Reference Section
Steam ……………………………………………………………… 100 psig (690 kPa)
Max. Recommended Differential Pressure for Modulating Service
Bronze Trim
Liquid………………………………………………………………. 25 psi (173 kPa)
Steam ……………………………………………………………… 15 psi (103 kPa)
Stainless Steel Trim
Liquid………………………………………………………………. 50 psi (345 kPa)
Steam ……………………………………………………………… 50 psi (345 kPa)
Rangeability ……………………………………………………………………….>100:1
Close-off Ratings ………………………………………According to ANSI/FCI 70-2
Close-off Pressure ………………………………… Refer to the Reference Section
Leakage Rate …………………………………………………..Class IV (0.01% of Cv)
Flow Characteristics …………………………………. Equal Percentage or Linear
Dimensions
Face-to-face ……………………………………………………………ANSI/ISA 75.03