Description
Siemens electric temperature control valves are widely used in city heating, gas distribution, air conditioning, refrigeration, and other building automation control systems. It is also suitable for automatic process control systems in chemical, petroleum, mining, power plants, foods, and other industries.
The controller features PI, PID adjustment, precise control, multi-loop control, and other capabilities that can monitor and control fluid flow, pressure, differential pressure, temperature, humidity, enthalpy, and air quality.
The actuators are electro-mechanical and electro-hydraulic, with manual and automated adjustment, sensitive adjustment, a high shut-off force, and variable flow characteristics (linear or equal percentage). Electro-hydraulic actuator with automatic power failure reset protection, 0-10V or 4-20mA input signal, and valve position feedback function.
The flow control valve is suitably used for controlling pipeline cooling water, low-pressure hot water, high-pressure hot water, salt water, thermal oil, and steam, with good linearity, adjustable ratio, tight sealing, high-temperature resistance, and anti-cavitation.
Temperature Control Valve Features
Stable and precise control with the proportional-integral (PI) or proportional-integral, differential (PID) adjustment function.
For different site process conditions, the control parameters can be flexibly adjusted to achieve systematic control.
The current temperature value can be read by the controller and observe the working status of the valve.
Extendable functions, such as remote setting, temperature compensation, and over-temperature forecast.
The packing seal adopts a V-ring high-temperature sealing assembly, which prevents the possibility of stem reporting dead or leakage.
The stem and seat are paired and ground to ensure that the leakage is far below the national allowable standard.
Electric Temperature Control Valve
The temperature control valve is the most important regulating equipment for heating system flow adjustment.
Relative flow rate refers to the temperature control valve in a certain degree of open flow rate and the ratio of full open flow rate G / Gmax; The temperature control valve in a certain degree of open stroke and the ratio of full stroke l is called the relative stroke. The relationship between relative travel and relative flow is called the flow characteristics of the temperature control valve, that is G/Gmax = f(l). The relationship between them is expressed as linear characteristics, fast-opening characteristics, equal percentage characteristics, parabolic characteristics, and several characteristic curves.
For the radiator, from the hydraulic stability and thermal scheduling point of view, the heat dissipation and flow relationship are expressed as a set of the upper parabolic curves, the flow G increases, and the heat dissipation Q gradually tends to saturate. In order to make the system has good regulation characteristics, easy to use equal percentage flow characteristics of the regulating valve to compensate for the non-linear impact of the radiator itself (1).
Valve power degree on the impact of regulation characteristics. Adjustable ratio R for the temperature control valve can control the large flow rate and small flow rate ratio:
R = Gmax / Gmin
Gmax for the temperature control valve fully open when the flow rate, can also be seen as a radiator design flow; Gmin is with the temperature control valve right degree size and change. Radiator system, temperature control valve, and radiator for the series connection, so the adjustable ratio R and valve power relationship: R = RmaxKV0.5 (2)
VF61 Stainless Steel Series Mixing Electric Temperature Control Valve
VF61 Stainless Steel Series temperature control valves are suitable for continuous control in district heating systems and HVAC systems. They can be assembled with Siemens SAX, SKD, SKB, SKC SBV SBX series actuators. VF61 series stainless steel electric temperature control valve, 2-way valve PN16/PN25, flange connection, stroke ≤VF61.100=20mm; ≥VF61.125=40mm.
Product Model
VF61-40, VF-50, VF-65, VF-80, VF-100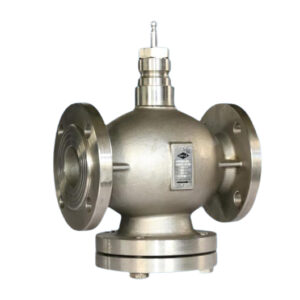 VF61 Series Technical Parameters
High Shut-off Force Flange Type Two-way Control Valve
304/316L stainless steel series flange connection control valve.
Nominal pressure: PN40
Stroke: VF61.32 ~ VF61.l00: 20mm
VF61.l00 ~ VF61.200: 40mm
Leakage:0…0.1%Kvs
Medium temperature: -25…+350℃
Flow characteristics: isometric
Material: valve body: 304 stainless steel
Stem: stainless steel
Valve plug: stainless steel
Stem seal: combined special sealing