Description
7100/8100 Series pressure/vacuum relief valves are pressure/vacuum relief valves for large volume discharge of storage tanks, which can avoid loss of storage tanks due to overpressure or negative pressure, and at the same time can significantly reduce the loss of steam caused by "breathing" of storage tanks.
7112, 8112 Series Negative Pressure Spring Type Breather Valve
7113, 8113 series Positive Pressure Spring Type Breather Valve
7115, 8115 Series Positive/Negative Pressure Spring-Loaded Breather Valve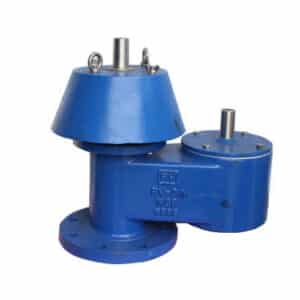 Design Features For Pressure/Vacuum Relief Valve
Size: 2″ ~12″ (DN50-DN300)
API7100 series breathing valve discharge port is the same as the inlet, which is convenient for the end-users to choose.
API8100 series breathing valve discharge port is larger than the inlet to increase the exhaust volume.
Breathing mode: discharge, inhalation atmosphere.
A Rainproof cap is easy to disassemble and install, so as to facilitate inspection and maintenance of equipment, protective net can stop external debris from entering the breathing port.
According to the user's needs, can add an explosion-proof flame arrester, inhalation bend, jacket, blowing hole, lining, dehumidification, and other functions (need to confirm before ordering);
Flange standard according to ANSI B16.5, according to user requirements can choose HG series, GB series, SH series, JIS series, EN series.
Setting Pressure of 7100/8100 Pressure/Vacuum Relief Valve
Model
7110.8110
7112, 8112
7113.8113
7115.8115
Positive Pressure Setting

(KPa)

0.2-6.9
0.2-6.9
6.9-103.4
6.9-103.4
Negative Pressure Setting

(KPa)

-0.2–4.3
-4.3~-82
-0.2—4.3
-4.3—82


Dimension Sheet For 7110, 7112, 7113, 7115 Series
| | | | | | | | |
| --- | --- | --- | --- | --- | --- | --- | --- |
| Size | 2″[50] | 3″(80] | 4″1100] | 6″[150] | 8″[200] | 10″[250| | 12″ [300] |
| L | 301 | 368 | 416 | 525 | 675 | 824 | 967 |
| Hl | 290 | 352 | 393 | 490 | 622 | 746 | 876 |
| H2 | 394 | 422 | 505 | 636 | 870 | 1030 | 1230 |
Dimension Sheet For 8110, 8112, 8113, 8115 Series
| | | | | | | | |
| --- | --- | --- | --- | --- | --- | --- | --- |
| Size | 2″[50] | 3″[80] | 4″[100] | 6″[150] | 8″ [200] | 10″[250] | 12″[300] |
| L | 322 | 405 | 473 | 620 | 770 | 912 | 1075 |
| H1 | 335 | 378 | 466 | 613 | 701 | 830 | 956 |
| H2 | 403 | 490 | 615 | 860 | 985 | 1182 | 1225 |