Description
The model ZZVP pressure regulating valve is a nitrogen sealing device is composed of the control valve, actuator, pressure spring, pilot, pulse pipe, and other parts.
It is mainly used for maintaining the pressure of the gas (generally nitrogen) at the top of the vessel constant so as to prevent the materials in the vessel from contacting the air, volatilizing and being oxidized, and ensuring vessel safety.
It is especially suitable for gas seating protection systems of various large-sized storage tanks. The product has such features as energy-saving, agile action, reliable running, convenient operation, maintenance, etc. It is widely used in petroleum, chemical industry, etc.
Technical parameters and performances
Size: DN20 ~ DN100
Pressure Rating: PN1.6 ~ PN6.4MPa, 150 ~ 300LB
Flange Standard: JB/T79.1-94. 79.2-94, ANSI B16.
Body Material: Cast iron, cast steel, stainless steel
Plug type: Single seated, double-seat, Cage guided
Stem material: Stainless steel
Pressure balancing: Stainless steel bellows
Flow characteristic: Quick open
Working temperature: ≤ 80°C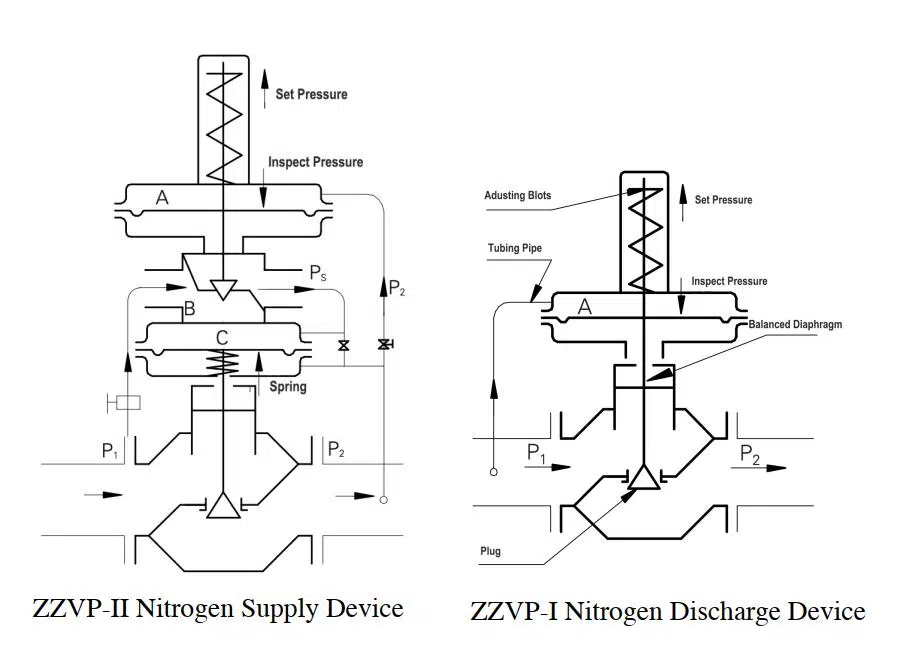 Actuator
Pressure Setting Range: 0.4~0.5, 5~10, 9~14, 13~19, 18~24, 22~28, 27~33, 36~44, 42~51, 49~58, 56~66
Diaphragm Cover Material: Teflon coated A3, A4 steel sheet
Diaphragm Material: NBR, EPR, fluorine rubber, oil-resistant rubber