Description
Brief of DIN Globe Valve
THINKTANK DIN Globe Valve is engineered to comply with the stringent DIN specifications, ensuring consistent quality and reliability. The innovative bellows design provides superior leak protection, extending the valve's service life and reducing maintenance requirements.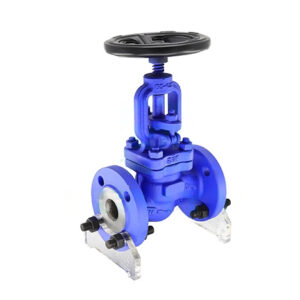 Key Features of DIN Globe Valve
Construction: DIN globe valves are typically made of cast iron, ductile iron, carbon steel, stainless steel, or other materials suitable for the intended application. These materials are chosen for their durability, corrosion resistance, and ability to withstand high pressures and temperatures.
Functionality: DIN globe valves are used to regulate the flow of fluid in a pipeline by adjusting the position of the valve disc, which is connected to a stem. The stem is operated manually, pneumatically, or electrically, depending on the application and requirements.
Design: DIN globe valves are available in various designs, including straight pattern, angle pattern, and Y-pattern. The straight pattern is the most common, with the inlet and outlet ports aligned in a straight line. The angle pattern has the inlet and outlet ports forming a right angle, while the Y-pattern features a 45-degree angle between the inlet and outlet ports. The choice of design depends on the specific application, flow characteristics, and pressure drop requirements.
Sealing: DIN globe valves can have different types of sealing systems, such as metal-to-metal, metal-to-PTFE (Teflon), or metal-to-elastomer. The sealing system determines the valve's leakage class and suitability for different applications.
Pressure Ratings: DIN globe valves are available in various pressure ratings, typically ranging from PN 10 to PN 400. The pressure rating indicates the maximum allowable pressure that the valve can withstand.
End Connections: DIN globe valves can have various end connections, such as flanged, threaded, or welded, depending on the pipeline requirements and installation procedures.
Advantage THINKTANK DIN Globe Valve
The bellows component is a crucial element of below-sealed valves, which is securely attached to both the valve bonnet and valve stem through a sophisticated automatic roll welding process. This metal bellows construction ensures a 100% leak-free stem area.
The double seal design incorporates both bellows and packing components. The metal bellows form a primary barrier to prevent leakage, while the packing serves as a secondary sealing mechanism in the event of bellows failure.
The overlay welded seat guarantees reliable sealing performance, even in the most demanding conditions.
The valve features an ergonomic handwheel, designed for enhanced durability and ease of operation.
Technical Specifications
Design standard: DIN EN 13709:2002
Face to face dimension: DIN EN 558-1:1995
Flanged ends: DIN EN 1092-1:2002
Welded ends: DIN EN 12627
Test& inspection: DIN EN 12266:2003
Parts of DIN Globe Valve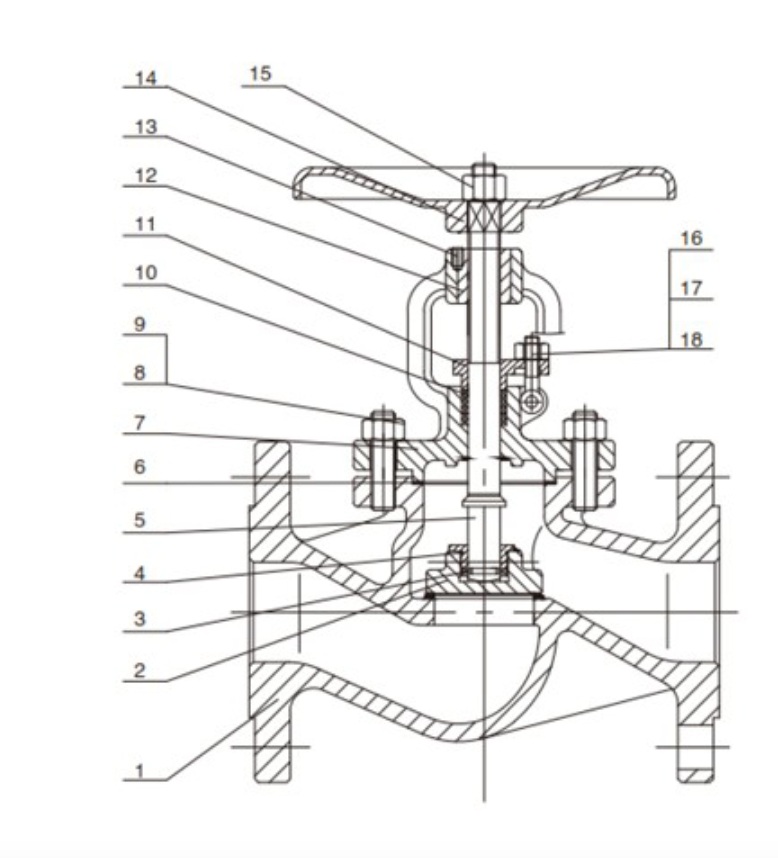 | | | |
| --- | --- | --- |
| No. | Parts Name | Materials |
| 1 | Body | GS-C25+13Cr |
| 2 | Disc | A105+13Cr |
| 3 | Pin | A3 |
| 4 | Disc cover | GS-C25 |
| 5 | Stem | 2Cr13 |
| 6 | Gasket | SS+Flexible graphite |
| 7 | Bonnet | GS-C25 |
| 8 | Nut | A194 2H |
| 9 | Bolt | A193 B7 |
| 10 | Packing | Flexible graphite |
| 11 | Gland | GS-C25 |
| 12 | Stem nut | QT400-15 |
| 13 | Lock srcew | A3 |
| 14 | Hand wheel | QT400-18 |
| 15 | Locknut | A194 2H |
| 16 | Nut | A194 2H |
| 17 | Eyebolt | A3 |
| 18 | Pin | A3 |
DIN Globe Valve Dimensions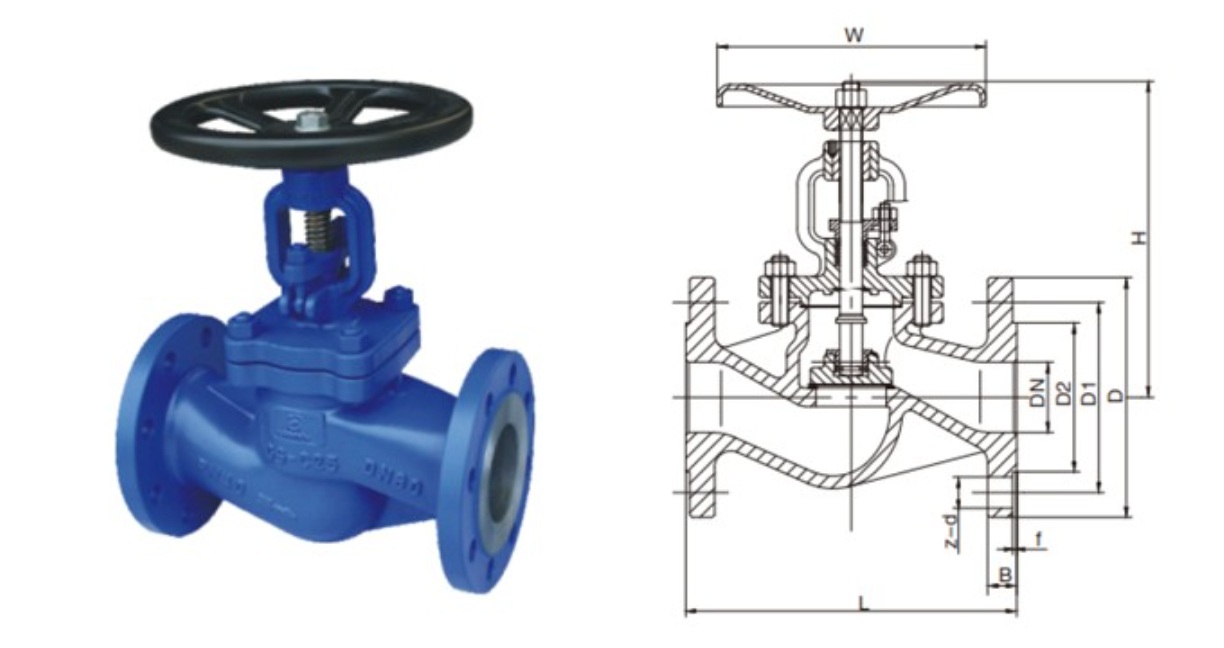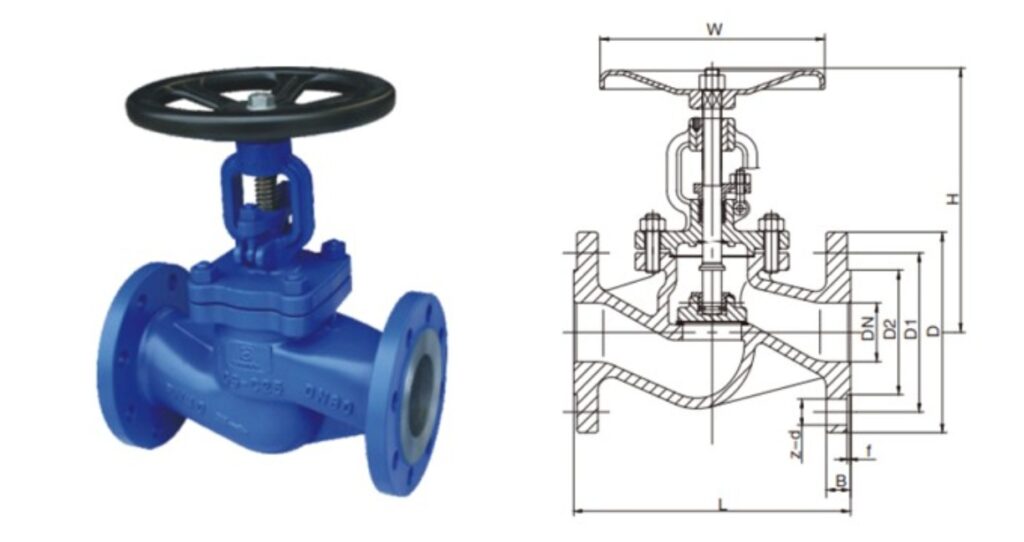 PN16
DN
15
20
25
32
40
50
65
80
100
125
150
200
250
300
350
400
L RF/BW
130
150
160
180
200
230
290
310
350
400
480
600
730
850
980
1100
D
95
105
115
140
150
165
185
200
220
250
285
340
405
480
520
580
w
140
140
160
160
180
200
220
250
300
350
400
450
550
600
700
700
H
195
195
215
219
247
256
282
305
385
430
470
650
775
852
1005
1140
Weight(kg)
4.2
5.1
6.2
8.2
9.8
13
17.5
23
37
53
82
140
252
310
540
760
Kvs(m3/h)
4.2
7.4
12
19
30
47
77
120
188
285
410
725
1140
1660
2230
2950
PN25
DN
15
20
25
32
40
50
65
80
100
125
150
200
250
300
350
400
L RF/BW
130
150
160
180
200
230
290
310
350
400
480
600
730
850
980
1100
D
95
105
115
140
150
165
185
200
235
270
300
360
425
485
555
620
w
140
140
160
160
180
200
220
250
300
350
400
450
550
600
700
700
H
195
195
215
219
247
256
282
305
385
430
470
650
775
852
1005
1140
Weight(kg)
4.2
5.1
6.2
8.2
9.8
13
18
24
38
55
85
146
265
330
580
790
Kvs(m3/h)
4.2
7.4
12
19
30
47
77
120
188
285
410
725
1140
1660
2230
2950
PN40
DN
15
20
25
32
40
50
65
80
100
125
150
200
250
300
350
400
L RF/BW
130
150
160
180
200
230
290
310
350
400
480
600
730
850
980
1100
D
95
105
115
140
150
165
185
200
235
270
300
375
450
515
580
660
w
140
140
160
160
180
200
220
250
300
350
400
450
550
600
700
700
H
195
195
215
219
247
256
282
305
385
430
470
650
775
852
1005
1140
Weight(kg)
4.2
5.1
6.2
8.2
9.8
13
19
25
40
57
88
148
280
350
620
830
Kvs(m3/h)
4.2
7.4
12
19
30
47
77
120
188
285
410
725
1140
1660
2230
2950
Available Disc Types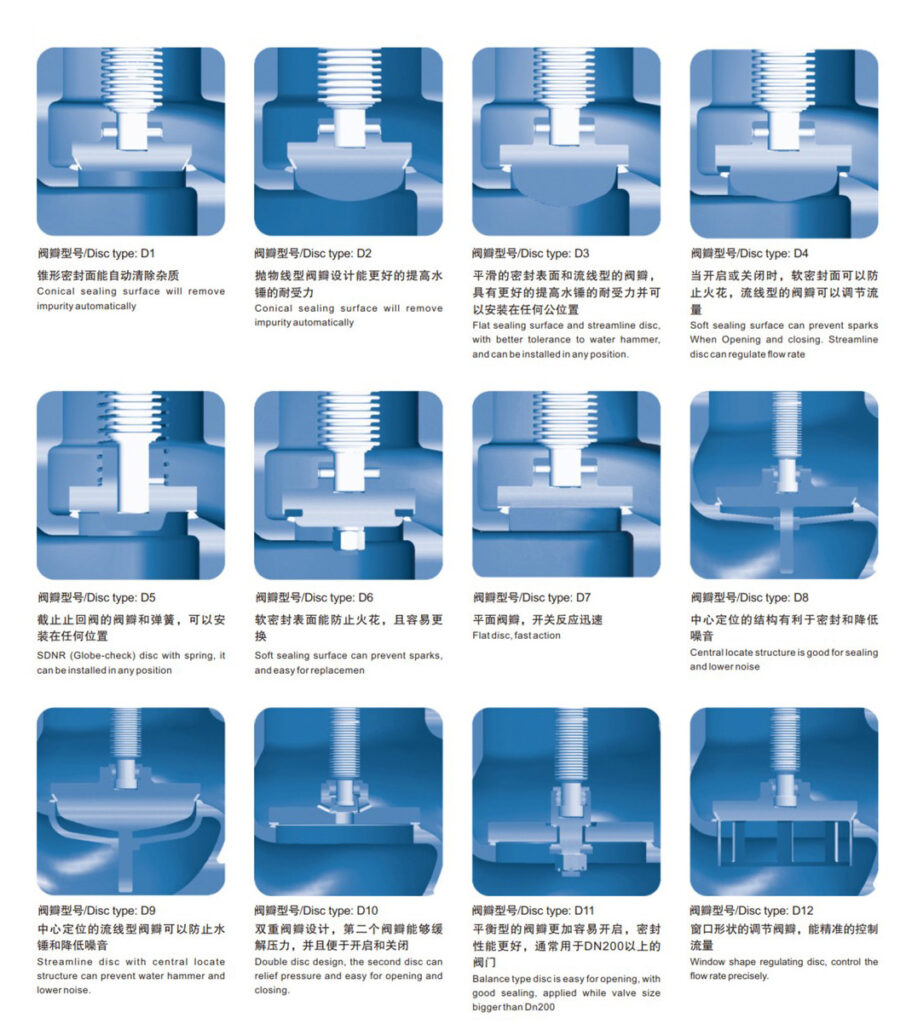 Special Design On Handwheel