Description
Brief of DIN Gate Valve with Bellows
THINKTANK DIN Gate Valve is engineered to comply with the stringent DIN specifications, ensuring consistent quality and reliability. The innovative bellows design provides superior leak protection, extending the valve's service life and reducing maintenance requirements.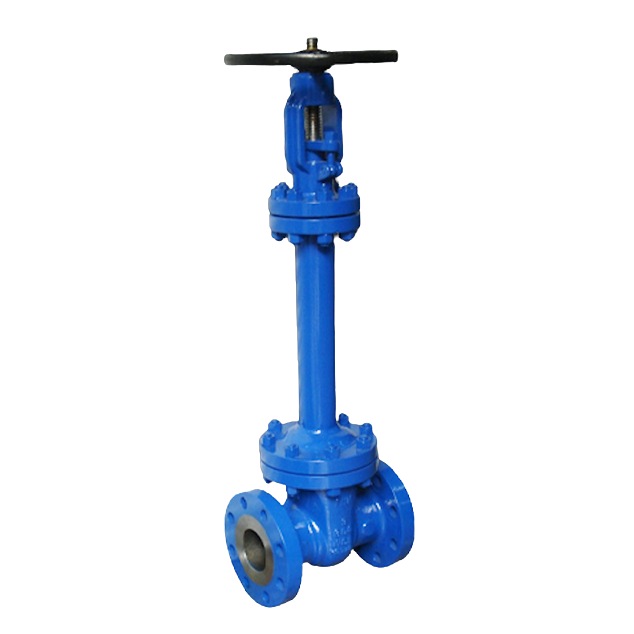 Key Features of Our DIN Gate Valve with Bellows
Bellows Seal: The valve's bellows seal is a flexible, metallic component that ensures a tight, leak-free connection between the valve's moving parts. This unique design prevents fluid leakage and reduces maintenance requirements.
DIN Standard: Designed and manufactured according to the German Industrial Standards (DIN), this gate valve provides reliable performance and high-quality construction for various industries and applications.
Durable Construction: Made from high-quality materials, such as cast iron, cast steel, stainless steel, or alloy steel, the DIN Gate Valve with Bellows is built to withstand harsh industrial environments and provide a long service life.
Bi-directional Flow: This gate valve is designed for bi-directional flow control, allowing for fluid flow regulation in both directions with minimal pressure drop.
Stem Design: The valve features a rising or non-rising stem design, depending on the application requirements. The rising stem offers a better visual indication of the valve position, while the non-rising stem is ideal for applications with limited space.
Actuation Options: The DIN Gate Valve with Bellows can be operated manually, using a handwheel, or automatically, such as electric, pneumatic, or hydraulic actuators, depending on the application and system requirements.
Versatile Applications: This gate valve is suitable for various applications, including water, steam, gas, oil, and other non-corrosive fluid handling systems, in industries such as power generation, chemical processing, oil and gas, and more.
Advantage THINKTANK DIN Gate Valve
Enhanced Leak Protection: The bellows seal design provides a hermetic seal, minimizing fluid leakage and reducing the risk of fugitive emissions.
Low Maintenance: The bellows seal design reduces the need for frequent maintenance and replacement of sealing components, lowering operational costs.
Reliable Performance: The DIN standard ensures that the valve meets strict quality and performance requirements, providing reliable operation in demanding applications.
Extended Service Life: The durable construction and materials used in the valve ensure a long service life, even in harsh industrial environments.
Easy Operation: The various actuation options available allow for easy operation and integration into existing control systems.
Parts of DIN Gate Valve with Bellows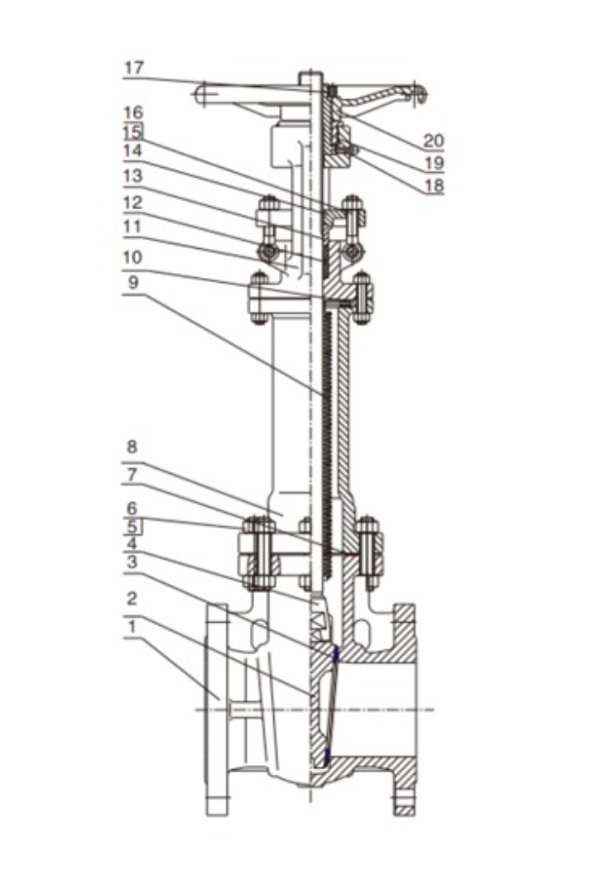 | | | | | | |
| --- | --- | --- | --- | --- | --- |
| No. | Parts Name | Materials | No. | Parts Name | Materials |
| 1 | Body | 1.0619 | 11 | Packing | Graphite |
| 2 | Disc | A351 CF8 | 12 | Pressing sleeve | A105 |
| 3 |  Stem | F304 | 13 |  Pressing sleeve | A105 |
| 4 | Bolt | A193 B7 | 14 | Pin | A276 410 |
| 5 | Nut | A194 2H | 15 | Gland eyebolt | A193B7 |
| 6 | Gasket | 304+Graphite | 16 | Nut | A914 2H |
| 7 | Bonnet | 1.0619 | 17 |  Handwheel | WCB |
| 8 | Bellows | SS304 | 18 | Bearing | 1035 |
| 9 | Bellows cover | SS304 | 19 |  Oil nipple | H62 |
| 10 | Gasket | 304+Graphite | 20 | Stem nut | QT400-15 |
DIN Gate Valve with Bellows Dimensions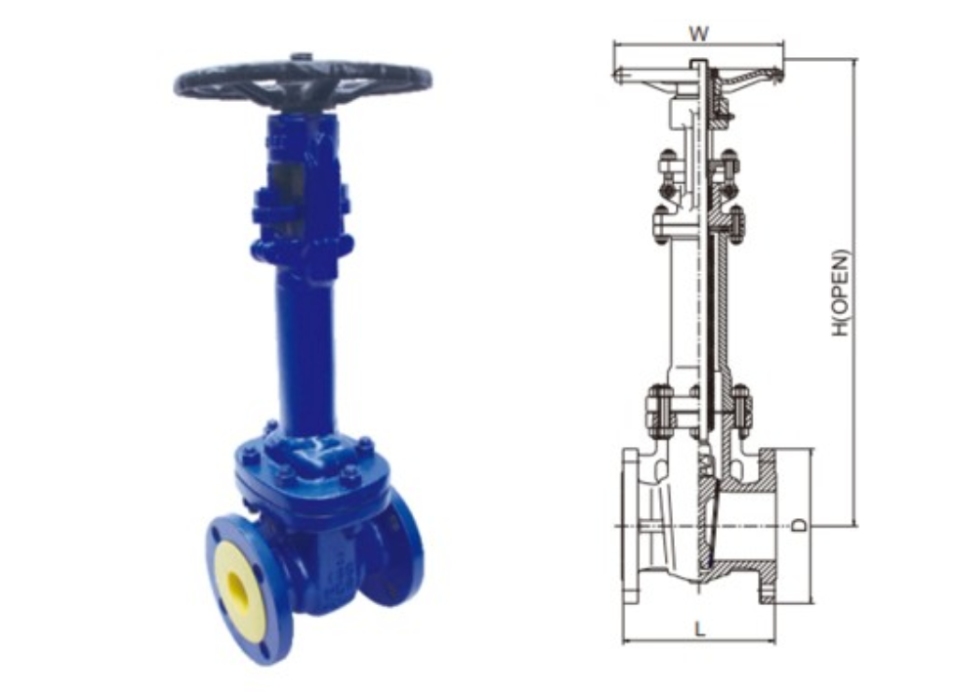 Pressure rating
PN16
Size
15
20
25
32
40
50
65
80
100
125
150
200
250
300
350
L
108
117
127
140
165
175
190
203
229
254
267
292
330
356
381
H
200
210
250
260
290
370
398
440
490
530
580
670
760
850
950
W
120
140
140
180
200
220
260
280
300
340
400
450
450
500
500
Weight(kg)
8
9
10
15
22
30
43
57
73
105
150
190
270
380
480
Pressure rating
PN25
Size
15
20
25
32
40
50
65
80
100
125
150
200
250
300
350
L
140
152
165
178
190
216
241
283
305
381
403
457
457
502
762
H
200
210
250
260
290
370
398
440
490
530
580
760
760
850
980
W
120
140
140
180
200
220
260
280
300
340
400
450
450
500
500
Weight(kg)
9
10
12
17
23
34
50
65
82
115
165
210
300
420
560
Pressure rating
PN40
Size
15
20
25
32
40
50
65
80
100
125
150
200
250
300
350
L
165
190
216
229
241
292
330
356
432
508
559
660
787
838
889
H
200
210
250
260
290
370
398
440
490
530
580
670
760
850
980
W
120
140
140
180
200
220
260
280
300
340
400
450
450
500
500
Weight(kg)
9
10
12
18
25
38
53
70
88
125
175
225
310
440
560
Available Disc Types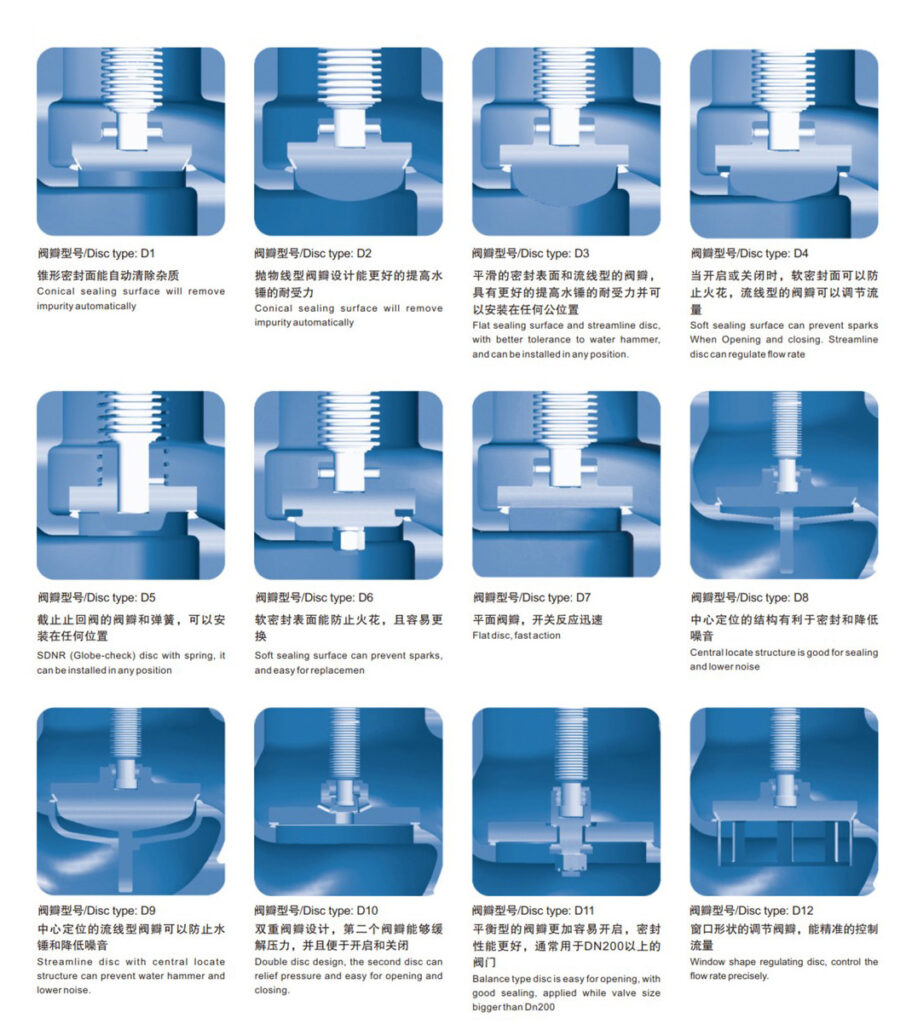 Special Design On Handwheel