Description
Brief of API Ball Valve with Bellows
THINKTANK's API ball valve with bellows features a three-stage sealing system. The primary seal is located at the lower end of the valve stem, utilizing a tapered seal that offers a metal-to-metal hard seal. The effectiveness of this seal increases with higher pressure. The second stage of sealing is provided by the bellows seal. As fluid enters the bellows through the first capillary-type seal, the pressure is significantly reduced, creating a stable and constant fluid environment. Consequently, the bellows experience a steady, unvarying force rather than alternating stress, which greatly enhances the working conditions and longevity of the bellows. The third stage of sealing is achieved through the use of conventional packing seals typically found in valves.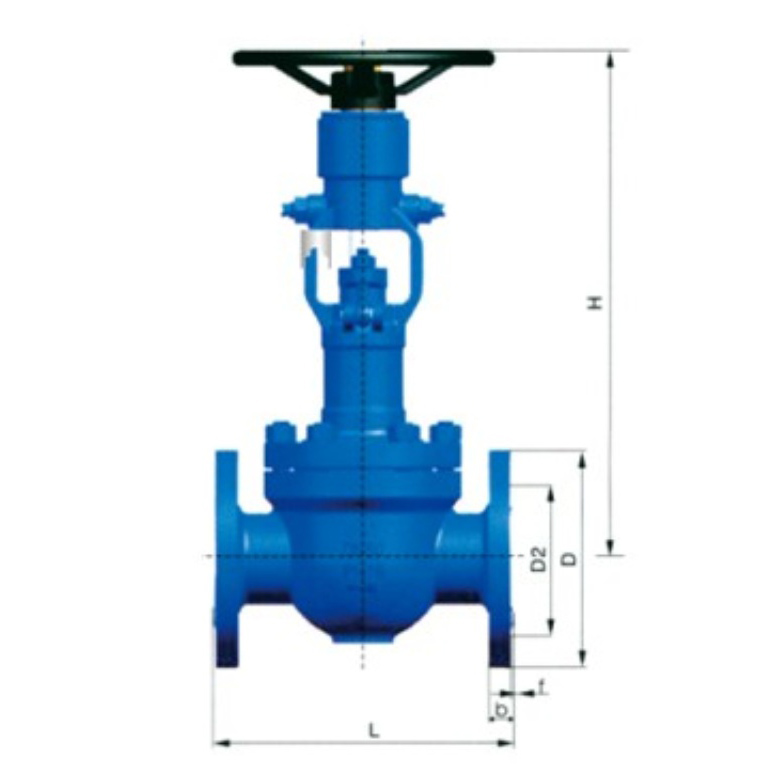 Key Features of Our API Ball Valve with Bellows
Bellows Seal: The valve incorporates a bellows seal, a flexible, metallic component that ensures a tight, leak-free connection between the valve's moving parts. This design significantly reduces fluid leakage and minimizes maintenance requirements.
API Standard: Designed and manufactured according to the American Petroleum Institute (API) standards, this ball valve provides reliable performance and high-quality construction for various industries and applications.
Durable Construction: Constructed from robust materials such as carbon steel, stainless steel, or alloy steel, the API Ball Valve with Bellows is built to withstand harsh industrial environments and provide a long service life.
Full Port Design: The valve features a full port design, allowing for unrestricted fluid flow with minimal pressure drop, maximizing efficiency in fluid handling systems.
Actuation Options: The API Ball Valve with Bellows can be operated manually using a lever or automatically using electric, pneumatic, or hydraulic actuators, depending on the application and system requirements.
Versatile Applications: This ball valve is suitable for a wide range of applications, including oil, gas, water, steam, and other non-corrosive fluid handling systems in industries such as oil and gas, petrochemical, power generation, and more.
Advantage THINKTANK API Ball Valve with Bellows
Superior Leak Protection: The bellows seal design provides an effective hermetic seal, minimizing fluid leakage and reducing the risk of fugitive emissions.
Low Maintenance: The bellows seal design reduces the need for frequent maintenance and replacement of sealing components, lowering operational costs.
Reliable Performance: The adherence to API standards ensures that the valve meets strict quality and performance requirements, providing reliable operation in demanding applications.
Extended Service Life: The durable construction and materials used in the valve ensure a long service life, even in harsh industrial environments.
Easy Operation: The various actuation options available allow for easy operation and integration into existing control systems.
Technical Specifications
Design standard: ASME B16.34
Face to face dimension: ASME B16.10
Flanged ends: ASME B16.5
Welded ends: ASME B16.25
 Test & inspection: API 598
Parts of API Ball Valve with Bellows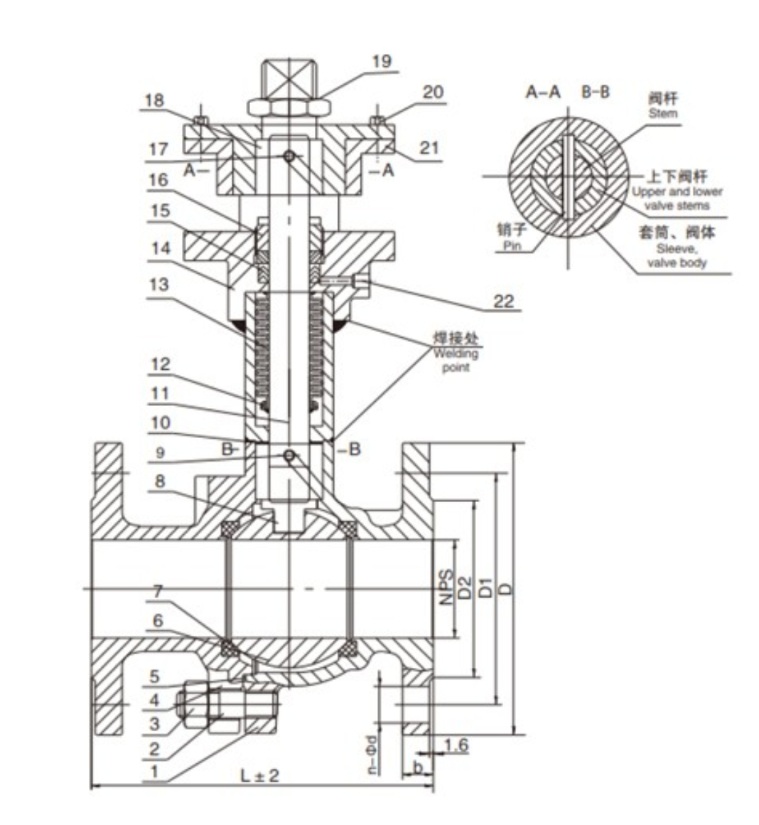 | | | | | | |
| --- | --- | --- | --- | --- | --- |
| No. | Parts Name | Materials | No. | Parts Name | Materials |
| 1 | Body | ASTMA216WCB | 12 | Bellows welding ring | ASTMA216WCB |
| 2 | Bolts | ASTMA193 B7 | 13 | Bellows | ASTMA182F316L |
| 3 | Nut | ASTM A194 2H | 14 | Sleeve | ASTMA216WCB |
| 4 | Bonnet | ASTMA216WCB | 15 | Packing | Expanded graphite |
| 5 |  Gasket | PTFE | 16 | Packing gland | ASTMA216WCB |
| 6 | Ball | ASTMA182F316L | 17 | Pin | ASTMA182F6a |
| 7 | Seal ring | PTFE | 18 |  Upper stem | 2Cr13 |
| 8 | Lower stem | 2Cr13 | 19 | Lock nut | ASTM A194 |
| 9 | Pin | ASTM A182 F6a | 20 | Bolts | ASTMA193B7 |
| 10 | Gasket | 316+Flexible Graphite | 21 | Sleeve | ASTMA216WCB |
| 11 | Stem | 2Cr13 | 22 | Refueling nozzle | H62 |
API Ball Valve with Bellows Dimensions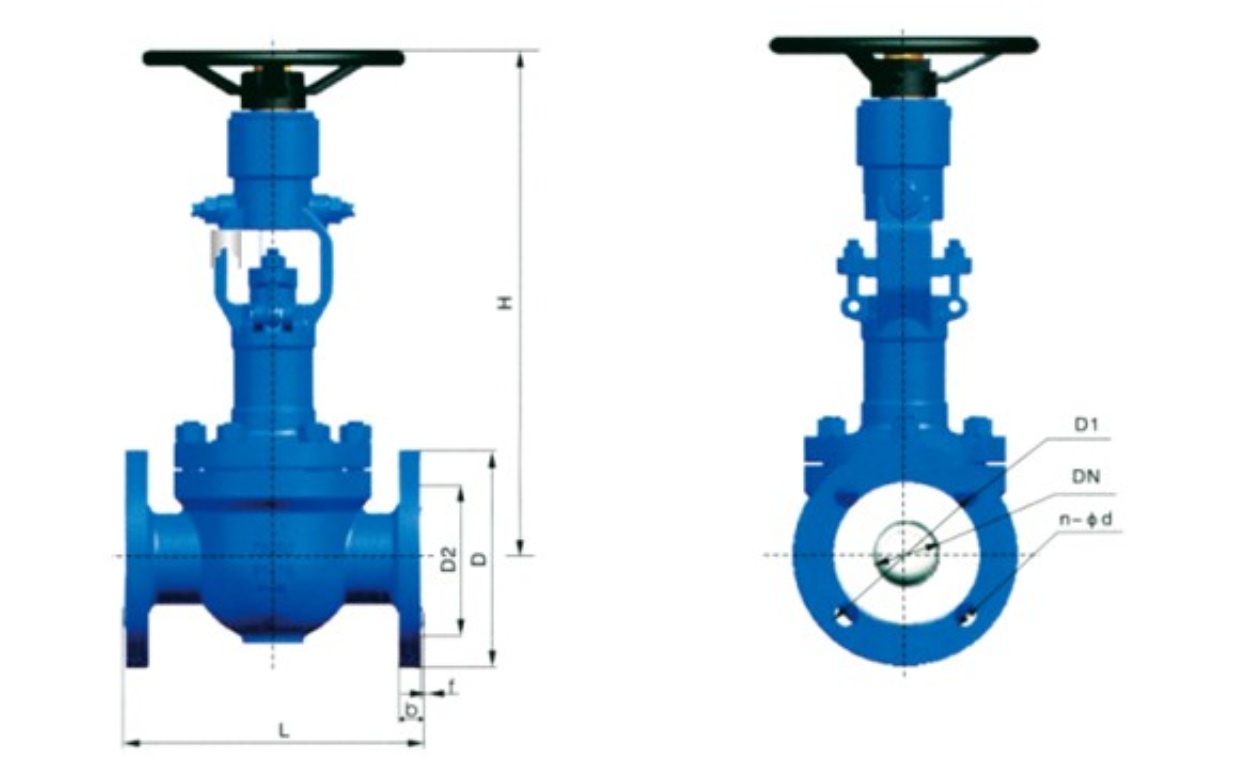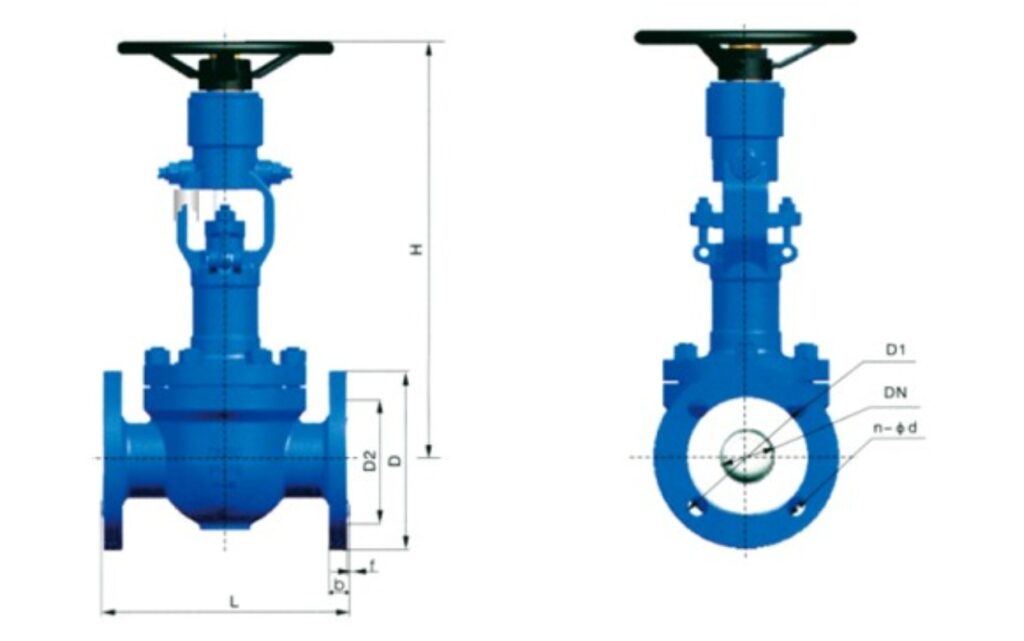 DN
NPS
Dimensions(mm)
L
D
D1
D2
b
f
n-φd
H
RF
BW
150LB
100
4
229
305
229
190.5
157
24
1.6
8-19
330
125
5
356
381
254
216
186
24
1.6
8-22
360
150
6
394
457
279
241.5
216
25.5
1.6
8-22
392
200
8
457
521
343
298.5
270
29
1.6
8-22
492
250
10
533
559
406
362
324
31
1.6
12-25
548
300
12
610
635
483
432
381
32
1.6
12-25
688
350
14
686
762
533
476
413
35
1.6
12-29
722
400
16
762
838
597
540
470
37
1.6
16-29
722
450
18
864
914
635
578
533
40
1.6
19-32
804
500
20
914
991
699
635
584
43
1.6
20-32
952
600
24
1067
1143
813
749.5
692
48
1.6
20-35
1154
650
26
1143
1245
786
744.5
711
40
1.6
36-22
1300
700
28
1245
1346
837
795.5
762
43
1.6
40-22
1550
750
30
1295
1397
887
846
813
43
1.6
44-22
1650
800
32
1372
1524
941
900
864
44
1.6
48-22
1740
900
36
1524
1727
1057
1009.5
972
51
1.6
44-26
1950
300LB
100
4
305
305
254
200
157
32
1.6
8-22
340
125
5
381
381
279
235
186
35
1.6
8-22
370
150
6
403
457
318
270
216
37
1.6
12-22
402
200
8
502
521
381
330
270
41.5
1.6
12-25
498
250
10
568
559
445
387.5
324
48
1.6
16-29
655
300
12
648
635
521
451
381
51
1.6
16-32
658
350
14
762
762
584
514.5
413
54
1.6
20-32
686
400
16
838
838
648
571.5
470
58
1.6
20-35
880
450
18
914
914
711
628.5
533
61
1.6
24-35
1050
500
20
991
991
775
686
584
64
1.6
24-35
1110
600
24
1143
1143
914
813
692
70
1.6
24-41
1400
650
26
1245
1245
867
803.5
737
87
1.6
32-35.5
1500
700
28
1346
1346
924
857
787
87
1.6
36-35.5
1600
750
30
1397
1397
991
921
845
92
1.6
36-39
1720
800
32
1524
1524
1054
978
902
102
1.6
32-42
1800
900
36
1727
1727
1172
1089
1010
102
1.6
32-45
2200
DN
NPS
 Dimensions(mm)
L
D
D1
D2
b
f
n-φd
H
RF
BW
600LB
50
2
292
295
165
127
92
26
6.4
8-19
240
65
21/2
330
330
190
149
105
29
6.4
8-22
290
80
3
356
356
210
168
127
32
6.4
8-22
340
100
4
432
432
273
216
157
38
6.4
8-25
358
125
5
508
508
330
266.5
186
45
6.4
8-29
400
150
6
559
559
356
292
216
48
6.4
12-29
445
200
8
660
660
419
349
270
56
6.4
12-32
498
250
10
787
787
508
432
324
64
6.4
16-35
653
300
12
838
838
559
489
381
67
6.4
20-35
665
350
14
889
889
603
527
413
70
6.4
20-38
738
400
16
991
991
686
603
470
77
6.4
20-41
920
450
18
1092
1092
743
654
533
83
6.4
20-44
1100
500
20
1194
1194
813
724
584
89
6.4
24-44
1200
600
24
1397
1397
940
838
692
102
6.4
24-52
1480
900LB
50
2
368
368
216
165.1
92
38.5
6.4
8-26
250
65
21/2
419
419
244
190.5
105
41.5
6.4
8-29
300
80
3
381
381
241
190.5
127
38.5
6.4
8-26
345
100
4
457
457
292
234.9
157
44.5
6.4
8-32
415
125
5
559
559
349
279.4
186
51
6.4
8-35
446
150
6
610
610
381
317.5
216
56
6.4
12-32
477
200
8
737
737
470
393.7
270
63.5
6.4
12-39
520
250
10
838
838
545
469.9
324
70
6.4
16-39
628
300
12
965
965
610
533.4
381
79.5
6.4
20-39
680
350
14
1029
1029
640
558.8
413
86
6.4
20-42
750
400
16
1130
1130
705
615.9
470
89
6.4
20-45
940
Available Dsic Types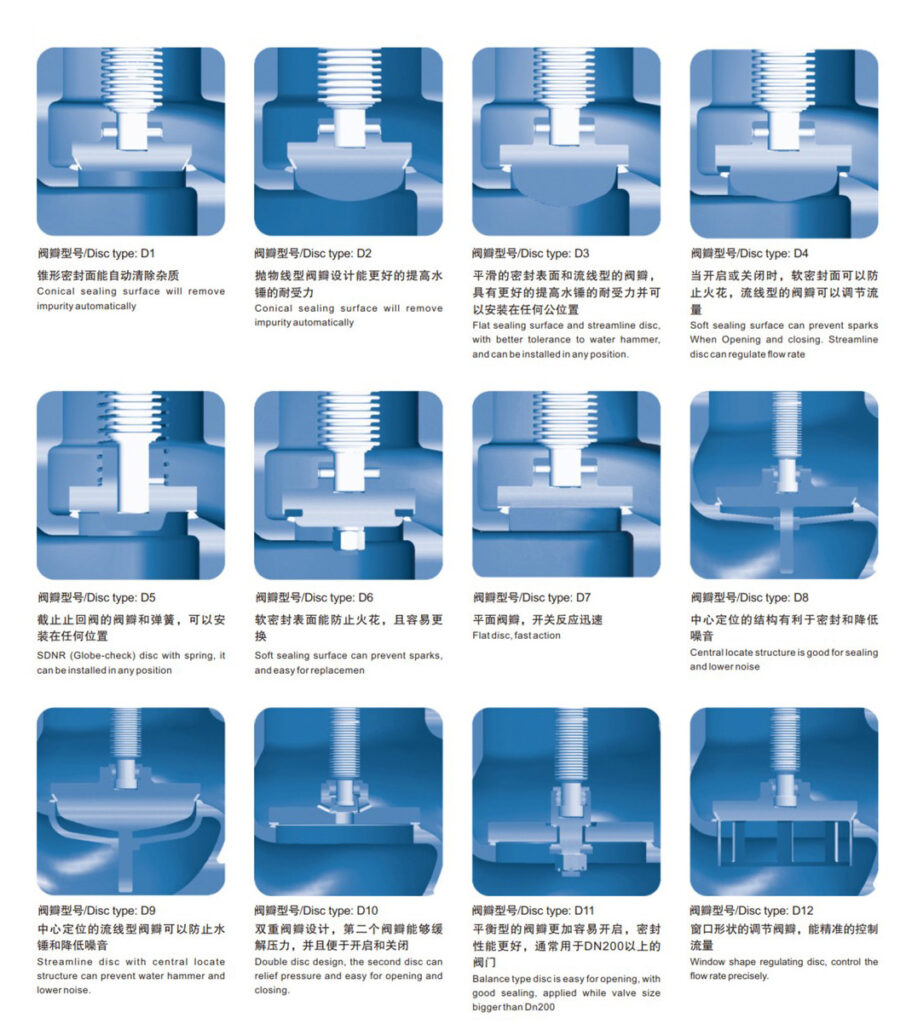 Special Design On Handwheel