Description
What is API Y Type Filter Valve
API Y-type filter valve, also known as a Y-strainer or Y-type strainer, is a filtering device designed to remove solid particles from liquids or gases within a pipeline system.
The Y-type filter valve features a Y-shaped body, which allows fluid to flow through it while trapping debris in a built-in screen or mesh filter element. The design of the Y-strainer enables easy access and removal of the filter element for cleaning or replacement. The Y-shape also helps minimize pressure drops, as it provides a relatively large filtering area while maintaining a compact size.
Application of API Y Type Filter Valve
Oil and gas production: Filtering contaminants from crude oil or natural gas to protect pumps, valves, compressors, turbines, and other downstream equipment from damage.
Refining and petrochemical processing: Removing solid impurities from feedstocks and intermediate products to maintain product quality, prevent fouling, and protect processing equipment.
Pipeline transportation: Protecting pipeline components, such as pumps and meters, from damage caused by debris and solid particles in the transported fluids.
Offshore drilling and production: Filtering drilling mud, process fluids, and seawater to protect equipment and maintain system integrity.
Technical Specifications
Design standard: ASME B16.34
Face to Face standard: ASME B16.10
Connection standard: ANSI B16.5
Test and inspection standards: API598
Parts and Material of DIN Y Type Filter Valve
| | | |
| --- | --- | --- |
| No. | Name | Material |
| 1 | Valve body | WCB/LCB/WC6/CF8M |
| 2 | Filter | SS304/SS3116 |
| 3 | Bonnet | WCBfl-CB/WC6/CF8M |
| 4 | Bolt | B7/B8/45/35 |
| 5 | Nut | 2H/8/45/35 |
| 6 | Gasket | Flexible graphite+304 |
| 7 | Screw plug | 45/304/316 |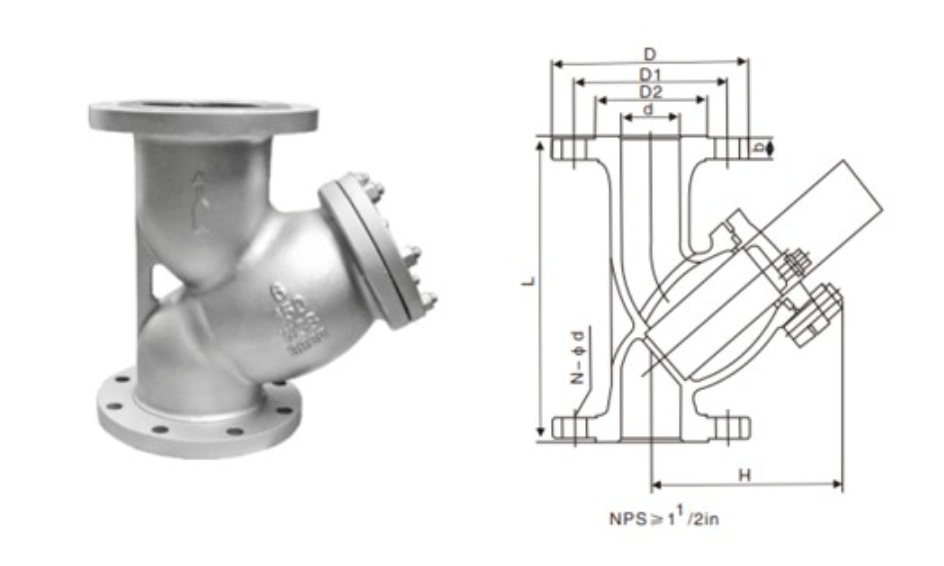 Size Inch
mm
d
D
D1
D2
b
n-φd
L
H
150Lb
1/2"
15
13
89
60.3
35
11.5
4-16
108
–
3/4″
20
19
98
69.9
43
12
4-16
117
–
1″
25
25
108
79.4
51
12
4-16
127
–
1l/4″
32
32
117
88.9
64
13
4-16
140
–
1l/2″
40
38
127
98.4
73
15
4-16
165
–
2″
50
51
152
120-7
92
16
4-19
203
205
21/2″
65
64
178
139.7
105
18
4-19
216
230
3″
80
76
190
152.4
127
19
4-19
241
255
4″
100
102
229
190.5
157
24
8-19
292
300
5″
125
127
254
215.9
186
24
8-22
356
350
6″
150
152
279
241.3
216
26
8-22
406
390
8″
200
203
343
298.5
270
29
8-22
495
450
10″
250
254
406
362
324
31
12-26
622
580
12

n

300
305
483
431.8
381
32
12-26
698
640
14″
350
337
533
476.3
413
35
12-29
787
720
16″
400
387
597
539.8
470
37
12-29
914
900
18″
450
438
635
577.9
533
40
16-32
978
1100
20″
500
489
699
635
584
43
20-32
978
1225
24″
600
591
813
749.3
692
48
20-35
1295
1335
300Lb
2″
50
51
165
120.7
92
23
8-19
267
235
21/2″
65
64
190
149.2
105
26
8-22
292
250
3″
80
76
210
168.3
127
29
8-22
318
289
4″
100
102
254
200
157
32
8-22
356
320
5″
125
127
279
235
186
35
8-22
400
365
6″
150
152
318
269.9
216
37
12-22
444
420
8″
200
203
381
330.2
270
42
12-26
559
480
10″
250
254
445
387.4
324
48
16-29
622
600
12″
300
305
521
450.8
381
51
16-32
711
700
14″
350
337
584
514.4
413
54
20-32
838
770
16″
400
387
648
571.5
470
58
20-35
864
915
18"
450
432
711
628.6
533
61
24-35
978
1150
20″
500
483
775
685.8
584
64
24-35
1016
1250
24"
600
584
914
812.8
692
70
24-41
1346
1330