Description
Brief of API Globe Valve with Bellows
THINKTANK API Globe Valve is engineered to comply with the stringent API specifications, ensuring consistent quality and reliability. The innovative bellows design provides superior leak protection, extending the valve's service life and reducing maintenance requirements.
Key Features of Our API Globe Valve with Bellows
Robust construction with high-quality materials for enhanced durability and long-lasting performance.
Bellows seal technology for exceptional leak prevention, ensuring a safe and efficient operation.
Streamlined flow path with minimal pressure drop, maximizing efficiency and reducing energy consumption.
Easy-to-operate handwheel for precise flow control and straightforward adjustments.
Available in a range of sizes and pressure ratings to suit diverse application requirements.
Advantage THINKTANK API Globe Valve with Bellows
The bellows component is a crucial element of below-sealed valves, which is securely attached to both the valve bonnet and valve stem through a sophisticated automatic roll welding process. This metal bellows construction ensures a 100% leak-free stem area.
The double seal design incorporates both bellows and packing components. The metal bellows form a primary barrier to prevent leakage, while the packing serves as a secondary sealing mechanism in the event of bellows failure.
The overlay welded seat guarantees reliable sealing performance, even in the most demanding conditions.
The valve features an ergonomic handwheel, designed for enhanced durability and ease of operation.
Technical Specifications
Design standard: ASME B16.34
Face to face dimension: ASME B16.10
Flanged ends: ASME B16.5
Welded ends: ASME B16.25
 Test & inspection: API 598
Parts of API Globe Valve with Bellows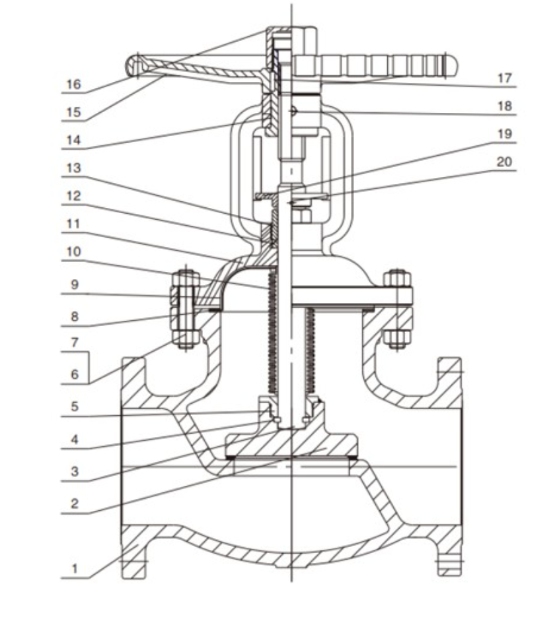 | | | | | | |
| --- | --- | --- | --- | --- | --- |
| No. | Parts Name | Materials | No. | Parts Name | Materials |
| 1 | Body | A216WCB | 11 |  Bonnet | A216WCB |
| 2 | Disc | F304 | 12 | Packing | Graphite |
| 3 | Stem | F304 | 13 | Packing gland | 1025 |
| 4 |  Split loop | SS304 | 14 |  Stem nut | QT400-15 |
| 5 | Disc cover | F304 | 15 | Handwheel | A216WCB |
| 6 |  Nut | A194 2H | 16 | Lock nut | 1025 |
| 7 |  Stud bolt | A193 B7 | 17 | Key | 1045 |
| 8 |  Gasket | 304+Flexible graphite | 18 | Oil nipple | H62 |
| 9 | Bellows cover | SS304 | 19 | Spacer | 1025 |
| 10 |  Bellows assembly | SS304 | 20 | Locating pin | 1045 |
API Globe Valve with Bellows Dimensions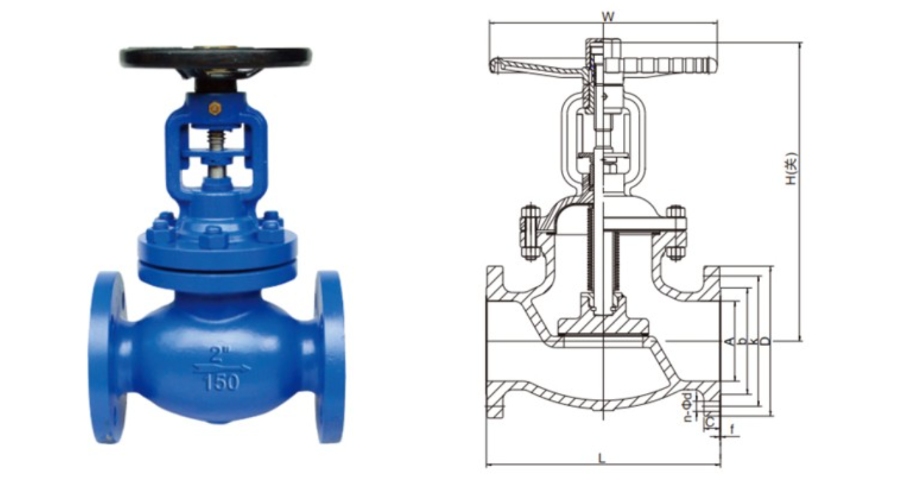 150LB
Size
2″
2-1/2″
3
4
5
6
8
10
12
14
16
DN
50
65
80
100
125
150
200
250
300
350
400
L RF/BW
203
216
241
292
356
406
495
622
698
787
914
D
150
180
190
230
255
280
345
405
485
535
595
w
220
220
250
300
300
350
400
550
600
600
700
H
315
330
380
405
455
513
683
736
820
970
1270
Weight(kg)
17
26
43
54
71
95
160
299
373
–
–
300LB
Size
2″
2-1/2″
3
4
5
6
8
10
12
14
16
DN
50
65
80
100
125
150
200
250
300
350
400
L RF/BW
267
292
318
356
400
444
559
622
711
838
864
D
165
190
210
255
280
320
380
445
520
585
650
w
220
220
250
300
350
400
450
500
600
600
700
H
328
355
414
433
452
545
725
798
933
1200
1410
Weight(kg)
29
44
59
87
182
165
285
360
580
–
–
600LB
Size
2″
2-1/2″
3
4
5
6
8
10
12
DN
50
65
80
100
125
150
200
250
300
L RF/BW
292
330
356
432
508
559
660
787
838
D
165
191
210
273
330
356
419
508
559
w
250
280
280
350
400
500
550
600
700
H
360
410
465
545
625
785
930
–
–
Weight(kg)
35
42
66
118
245
470
–
–
–
Available Disc Types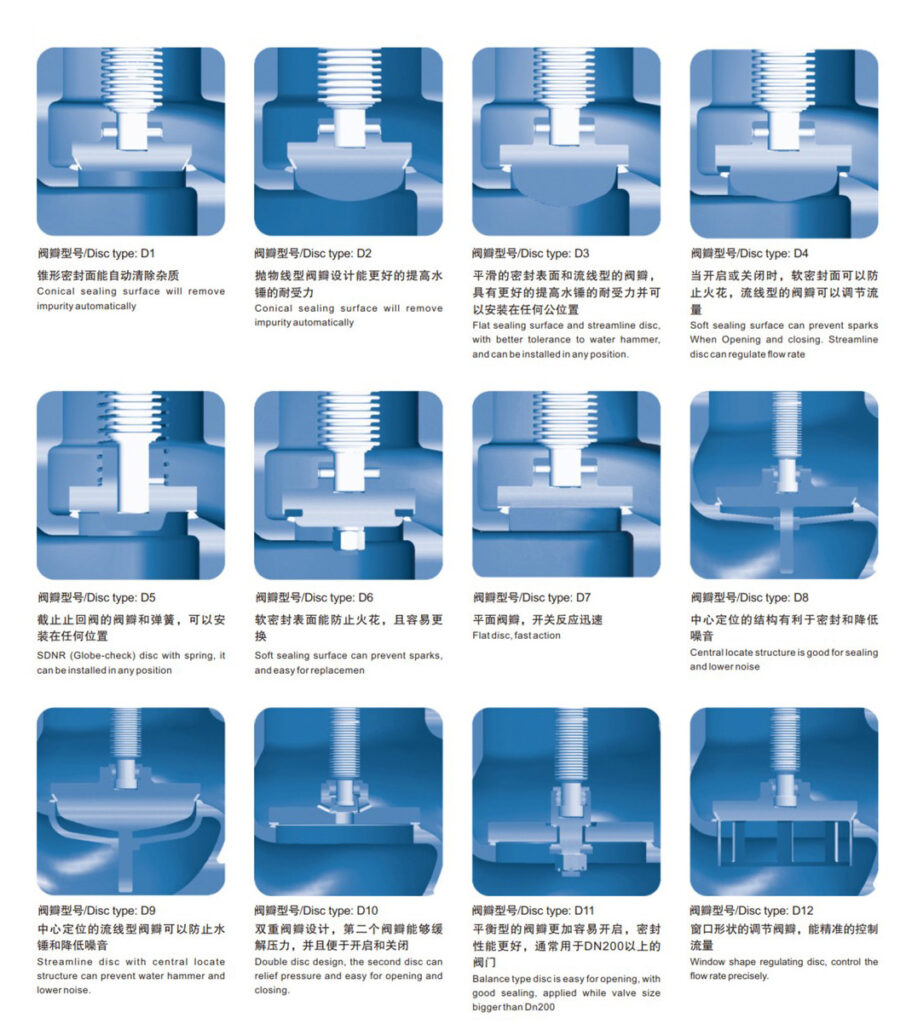 Special Design On Handwheel