Description
Brief of DIN Angle Globe Valve
THINKTANK DIN Globe Valve is engineered to comply with the stringent DIN specifications, ensuring consistent quality and reliability. The innovative bellows design provides superior leak protection, extending the valve's service life and reducing maintenance requirements.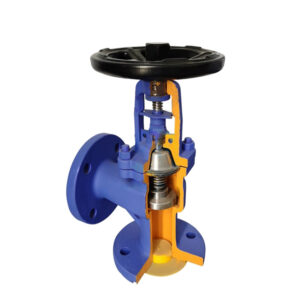 Key Features of DIN Angle Globe Valve
Angle globe valve, its outlet is 90 degrees right angle, suitable for installation in the corner of the pipeline system, so as to save 90 degrees elbow, save material and space, and also easy to operate.
The valve body adopts German film sand casting technology, which greatly improves the surface finish and mechanical properties of the valve body, reduces the appearance of porosity, sand holes and cracks, and enhances the tensile strength of the casting.
When the valve is closed, the conical sealing surface with a "scraping effect" can automatically remove surface impurities, which can ensure the valve flap has a reliable seal and longer service life.
Double sealing design (bellows + packing), in line with international sealing standards.
100% of all bellows pass the helium test and 100% of all valves pass the standard test to ensure zero leakage.
For products above DN150, a special device (patented by our company) is added to effectively prevent the valve from trembling, making noise, and causing damage to the internal parts in use, effectively increasing the service life by more than 150%.
We can provide various valve flap designs according to the requirements of working conditions, such as throttle type valve flap, stop check type valve flap, etc.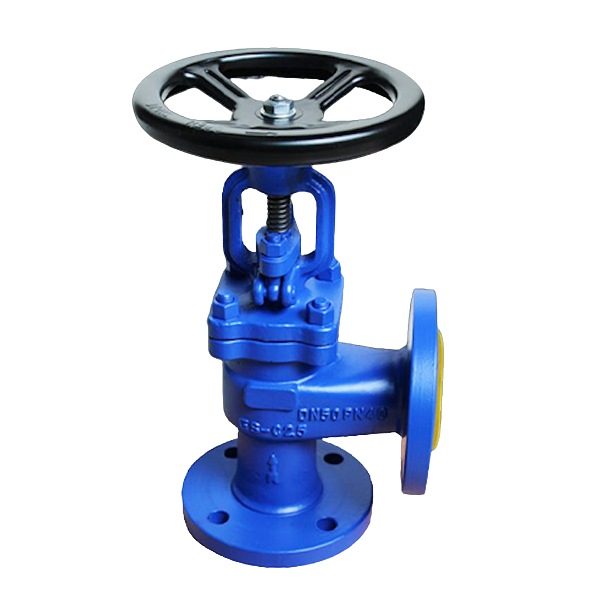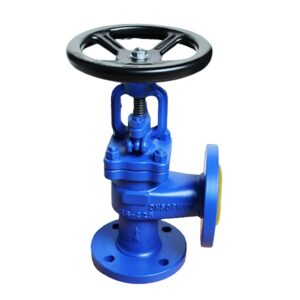 Advantage THINKTANK DIN Angle Globe Valve
The bellows component is a crucial element of below-sealed valves, which is securely attached to both the valve bonnet and valve stem through a sophisticated automatic roll welding process. This metal bellows construction ensures a 100% leak-free stem area.
The double seal design incorporates both bellows and packing components. The metal bellows form a primary barrier to prevent leakage, while the packing serves as a secondary sealing mechanism in the event of bellows failure.
The overlay welded seat guarantees reliable sealing performance, even in the most demanding conditions.
The valve features an ergonomic handwheel, designed for enhanced durability and ease of operation.
Technical Specifications
Design standard: DIN EN 13709:2002
Face to face dimension: DIN EN 558-1:1995
Flanged ends: DIN EN 1092-1:2002
Welded ends: DIN EN 12627
Test& inspection: DIN EN 12266:2003
Parts of DIN Angle Globe Valve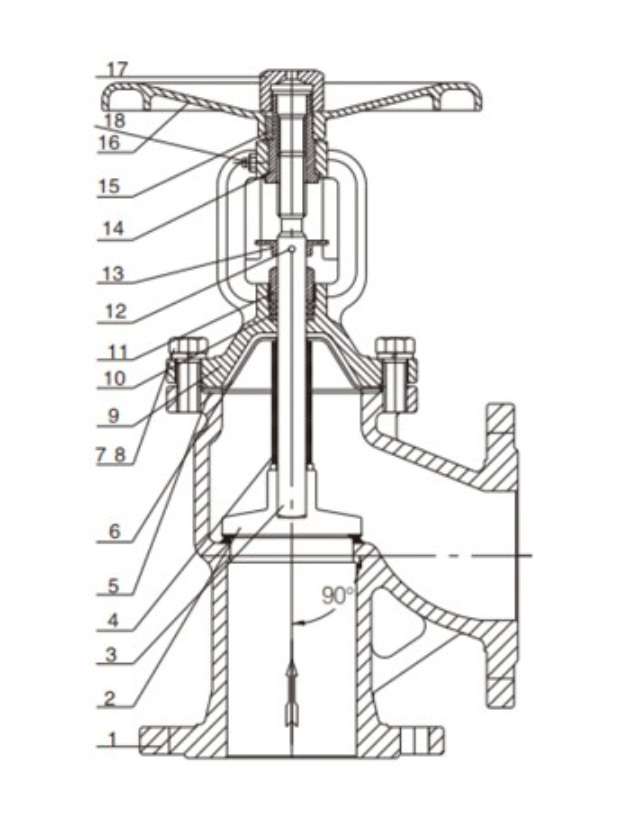 | | | | | | |
| --- | --- | --- | --- | --- | --- |
| No. | Parts Name | Materials | No. | Parts Name | Materials |
| 1 | Body | A216WCB | 10 | Packing | Flexible Graphite |
| 2 | Disc | 13Cr | 11 |  Gland | A276 410 |
| 3 | Stem | SS410 | 12 | Pin | A276 410 |
| 4 |  Bellows | SS304 | 13 |  Spacer | SS410 |
| 5 |  Gasket | FLEXIBLE GRAPHITE | 14 |  Stem nut | BRONZE |
| 6 |  Seal plate | SS304 | 15 | Key | 1045 |
| 7 |  Spring shim | 1066 | 16 | Hand wheel | A572 |
| 8 | Bolt | A193B7 | 17 | Lack nut | 1045 |
| 9 | Bonnet | A216WCB | 18 |  Lube fitting | BRASS |
DIN Angle Globe Valve Dimensions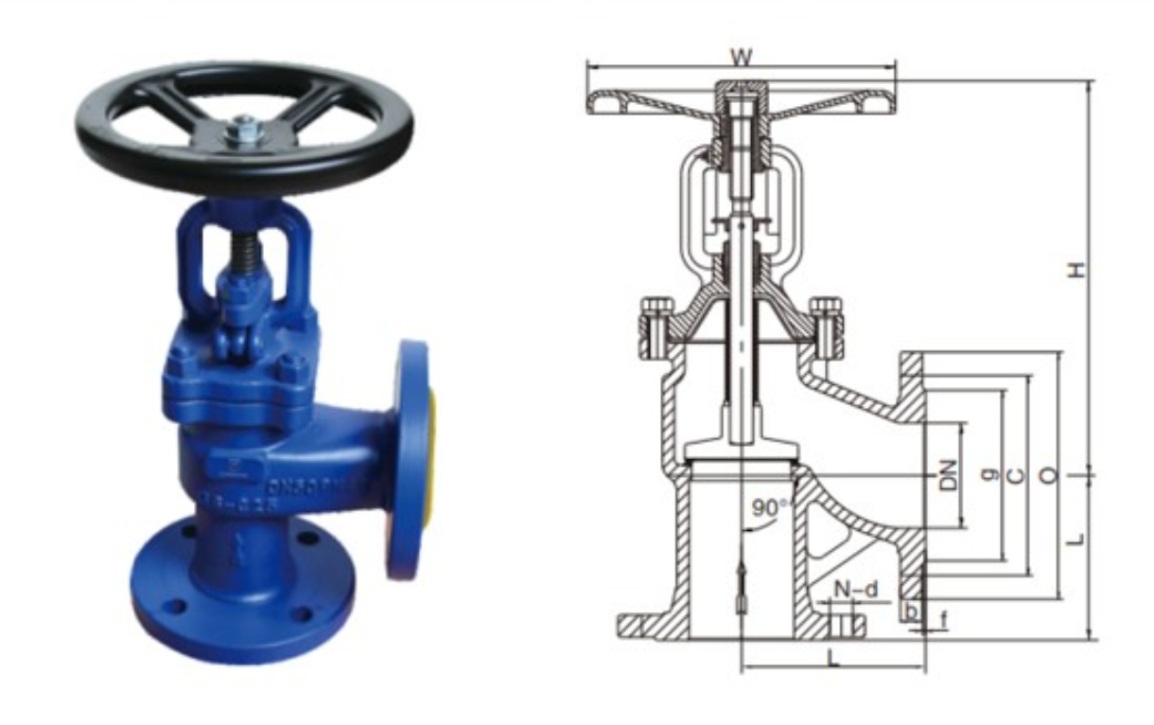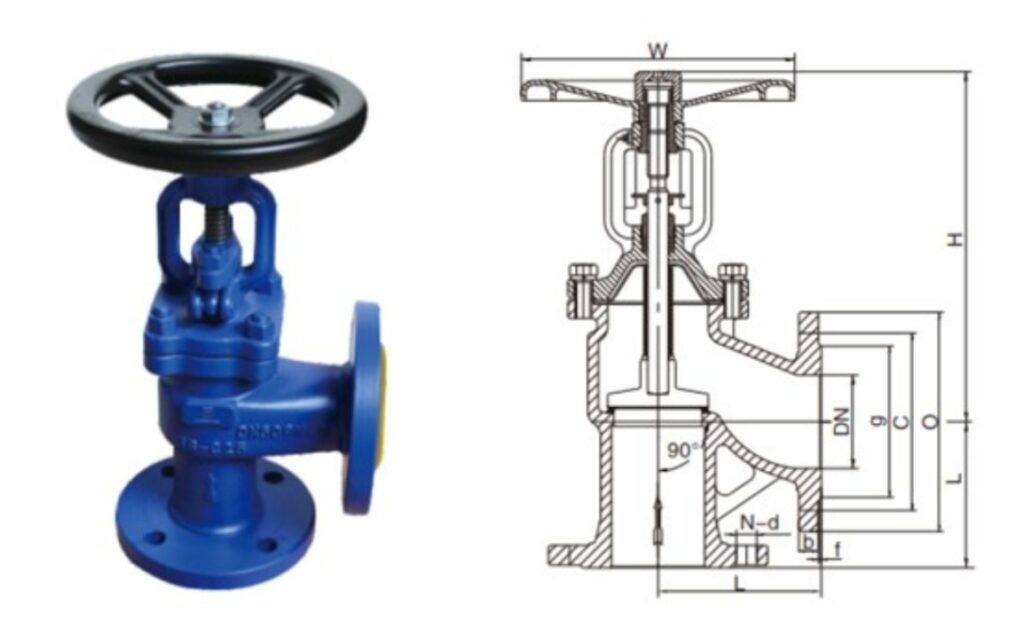 PN16
Size DN
15
20
25
32
40
50
65
80
100
125
150
200
250
300
350
400
L RF/BW
90
95
100
105
115
125
145
155
175
200
225
275
325
375
425
475
D
95
105
115
140
150
165
185
200
220
250
285
340
405
480
520
580
w
140
140
160
160
180
200
220
250
300
350
400
450
550
600
700
700
H
200
200
212
212
248
248
287
320
390
412
470
630
740
840
990
1100
Weight{kg)
3.8
4.8
5.7
7.6
9
12
16
22
33
45
70
135
260
305
510
740
Stroke
8
8
10
10
12
15
17
22
28
34
40
60
75
85
100
110
Kvs(m3/h)
4.2
7.4
12
19
30
47
77
120
188
285
410
725
1140
1660
2230
2950
PN25
Size DN
15
20
25
32
40
50
65
80
100
125
150
200
250
300
350
400
L RF/BW
90
95
100
105
115
125
145
155
175
200
225
275
325
375
425
475
D
95
105
115
140
150
165
185
200
235
270
300
360
425
485
555
620
w
140
140
160
160
180
200
220
250
300
350
400
450
550
600
700
700
H
200
200
212
212
248
248
287
320
390
412
470
630
740
840
990
1100
Weight{kg)
3.8
4.8
5.7
7.6
9
12
16
22
34
46
72
138
270
310
520
760
Stroke
8
8
10
10
12
15
17
22
28
34
40
60
75
85
100
110
Kvs(m3/h)
4.2
7.4
12
19
30
47
77
120
188
285
410
725
1140
1660
2230
2950
PN40
Size DN
15
20
25
32
40
50
65
80
100
125
150
200
250
300
350
400
L RF/BW
90
95
100
105
115
125
145
155
175
200
225
275
325
375
425
475
D
95
105
115
140
150
165
185
200
235
270
300
375
450
515
580
660
w
140
140
160
160
180
200
220
250
300
350
400
450
550
600
700
700
H
200
200
212
212
248
248
287
320
390
412
470
630
740
840
990
1100
Weight{kg)
3.8
4.8
5.7
7.6
9
12
16
22
35
48
75
140
275
315
530
770
Stroke
8
8
10
10
12
15
17
22
28
34
40
60
75
85
100
110
Kvs(m3/h)
4.2
7.4
12
19
30
47
77
120
188
285
410
725
1140
1660
2230
2950
Available Disc Types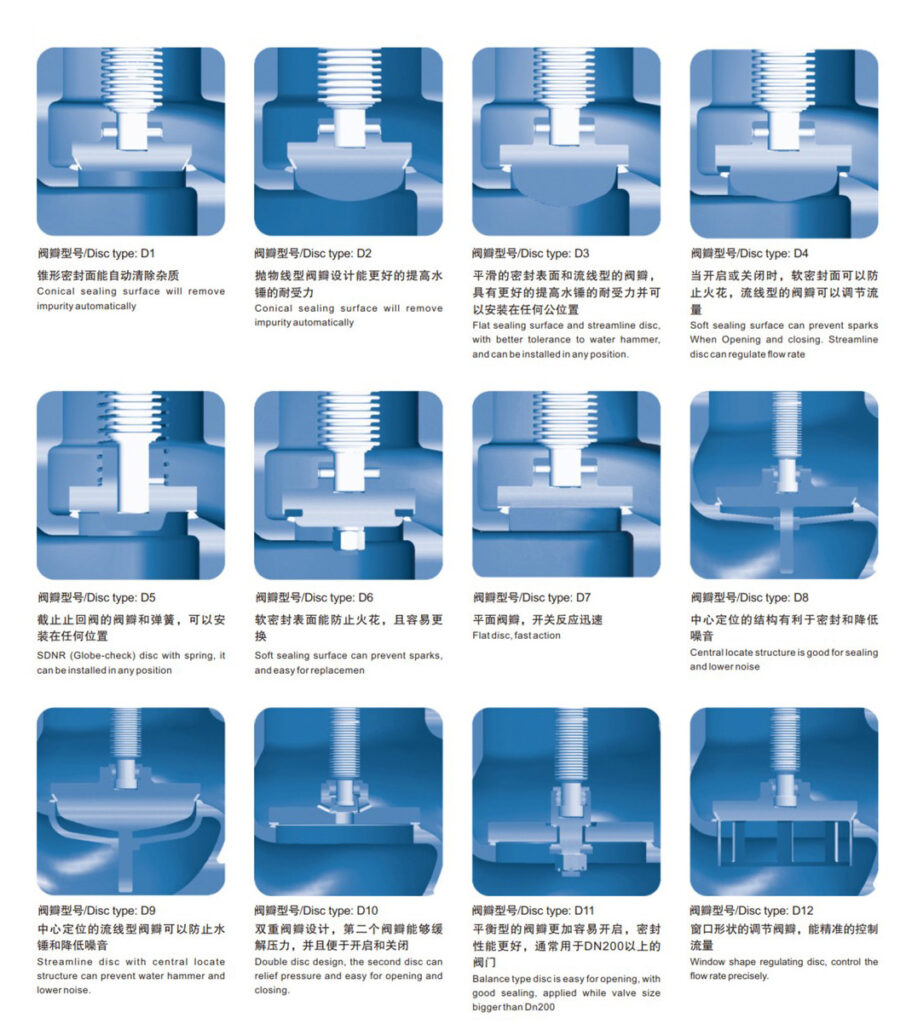 Special Design On Handwheel