Description
What are ESOV Series Swing Check Emergency Shut-Off Valves?
ESOV series of ANSI flanged swing-check valves with fusible links are created to offer a straightforward and efficient way of closing during emergencies or hazardous situations.
These valves have an external spring load and remain open thanks to the fire-sensitive fusible link. When the link melts due to fire or high temperatures, the valve automatically closes. The external lever rotates the hinge pin, causing the disc to redirect the flow of liquid, gas, or vapor.
We offer Swing Check Emergency Shut-Off Valves that have a Spring Assisted Swing Check with Fusible Link. Our ESOV series valves are available with 150# and 300# ANSI Flanged Connections in sizes ranging from 2″ to 16″.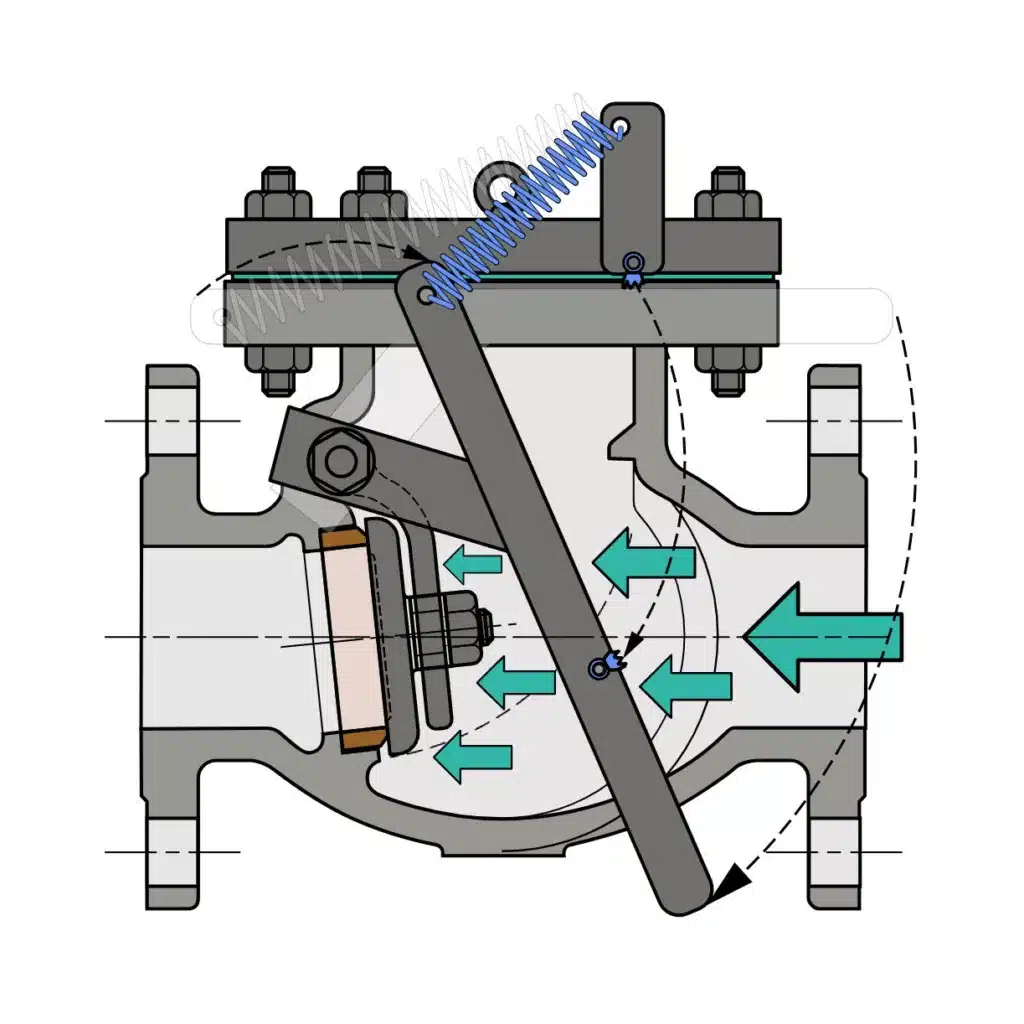 Sizes & End Connections
150# ANSI Flanged: 2″ to 16″
300# ANSI Flanged: 2″ to 16″
Design Features
1. Local and/or Remote Actuation
This feature allows users to operate the valve either directly at the valve location or from a distance, giving flexibility in various operational scenarios and ensuring safety in situations where direct access to the valve is not advisable.
2. Fire-Safe Fusible Link
In the event of a fire, the fusible link is designed to melt and activate the valve to shut off, preventing further fueling of the fire and reducing potential hazards. This ensures an added layer of protection in high-risk environments.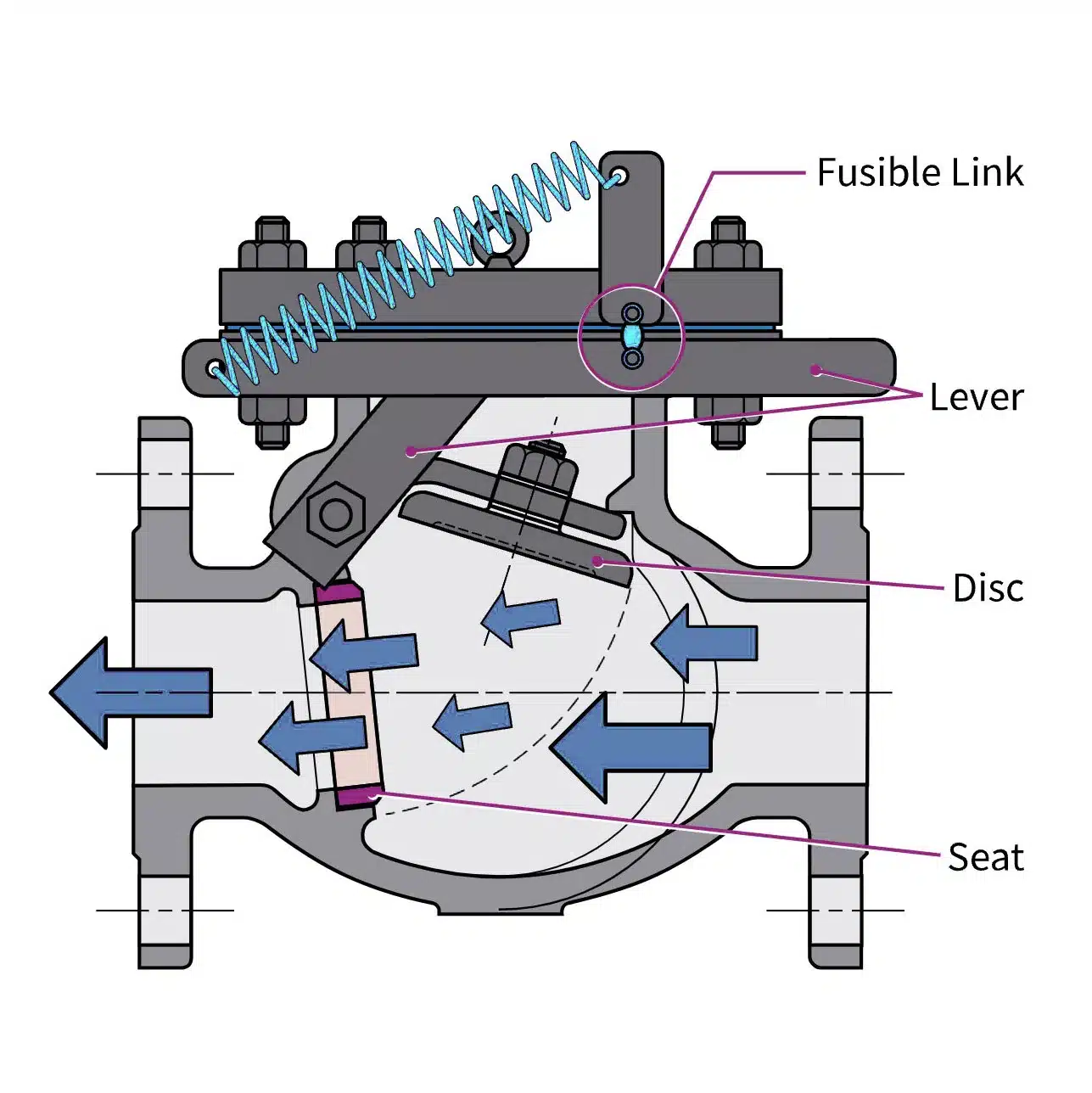 3. Economical Solution for Required Safety
The valves are cost-effective while still meeting essential safety requirements, providing both value and protection.
4. Versatility in Service Orientation
These valves can be installed in both horizontal and vertical positions, allowing for flexibility in system design and accommodating varied installation needs.
5. Rigorous Factory Testing to API 598
Every valve undergoes a thorough testing process in accordance with API 598 standards, ensuring its reliability and performance before reaching the end user.
6. Enhanced Seal with Back Pressure
The valve's design ensures that increased back pressure only tightens the seal between the disc and seat, reducing potential leaks and ensuring optimal performance.
7. Manual Reset for Safety
Once the valve is closed, it cannot be reopened automatically. It requires a manual reset, serving as an essential safety feature to prevent unintended or unauthorized reactivation of the flow.
Temperature Range
-20°F to 475°F
Materials
Body: Carbon steel or Stainless Steel
Disc: Carbon steel or Stainless Steel
Hanger Arm: Carbon steel or Stainless Steel
Seat: API 598 Trim 8 or 12
Cover Seal: Graphite
Fusible Link Trigger Set Temperatures Options:
135˚F
165˚F (Popular Standard Selection)
212˚F
280˚F
360˚F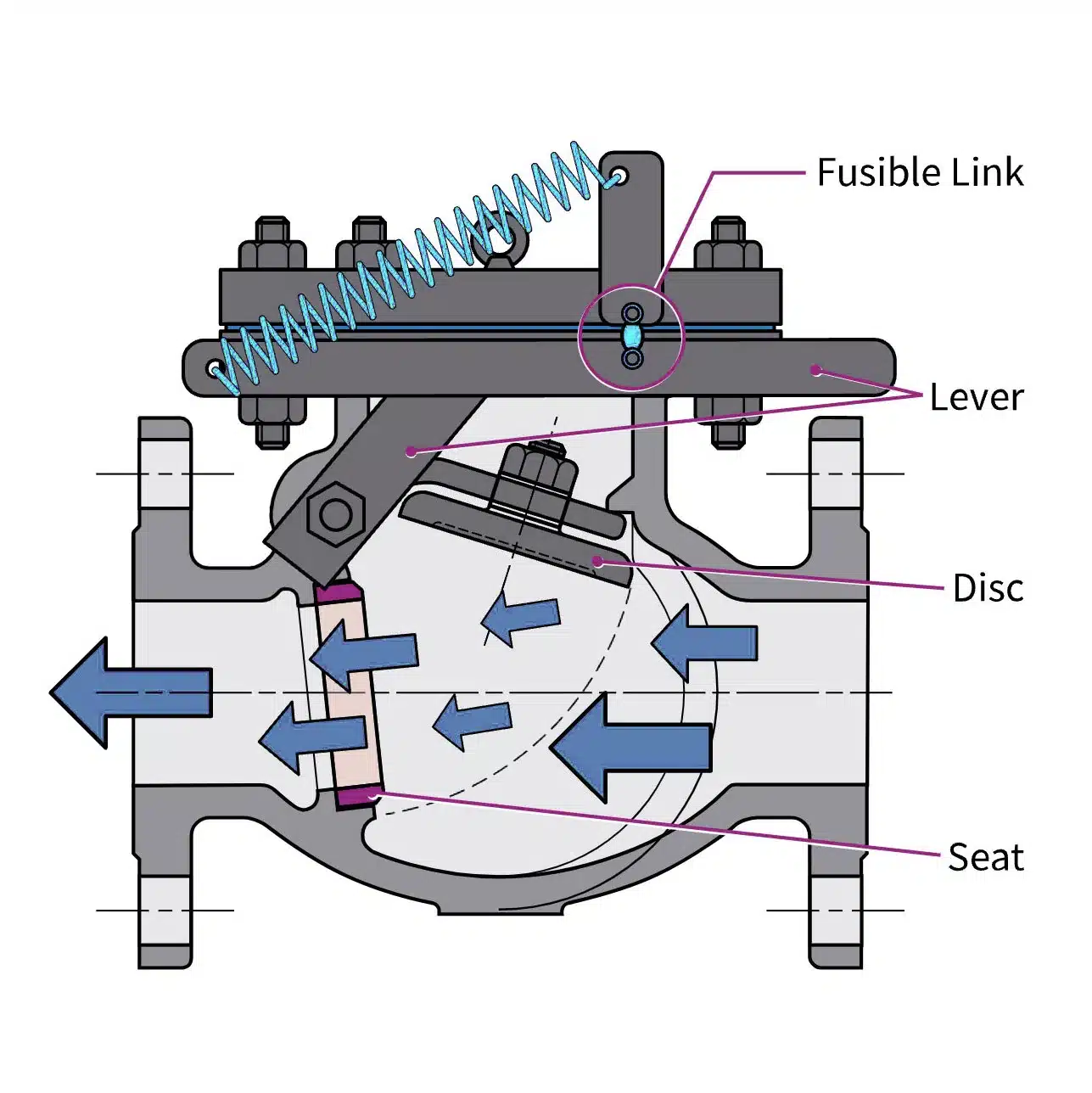 Parts of Emergency Shut-off  Swing Check Valves
1
Valve Body
ASTM A216 Gr WCB
2
Seat Ring
ASTM A182 Gr F6
3
Disc
ASTM A182 Gr F6
4
Disc Arm
ASTM A216 Gr WCB
5
Disc Nut
ASTM A194 Gr 2H
6
Hinge Pin
ASTM A479 Gr 410
7
Lever Nut
ASTM A194 Gr 2H
8
Link Pin
SS 18-8
9
Fusible Link
Lead
10
Lever
Cold Rolled Steel
11
Cover Gasket
Graphite
12
Cover Stud Nut
ASTM A194 Gr 2H
13
Cover Stud
ASTM A193 Gr B7
14
Cover
ASTM A216 Gr WCB
15
Spring
Steel
These are the typical applications where the material is commonly used:
– Refineries
– Petrochemical plants
– Off-shore oil rigs
– Chemical process equipment
– Water and waste applications
– Superheated steam lines on ships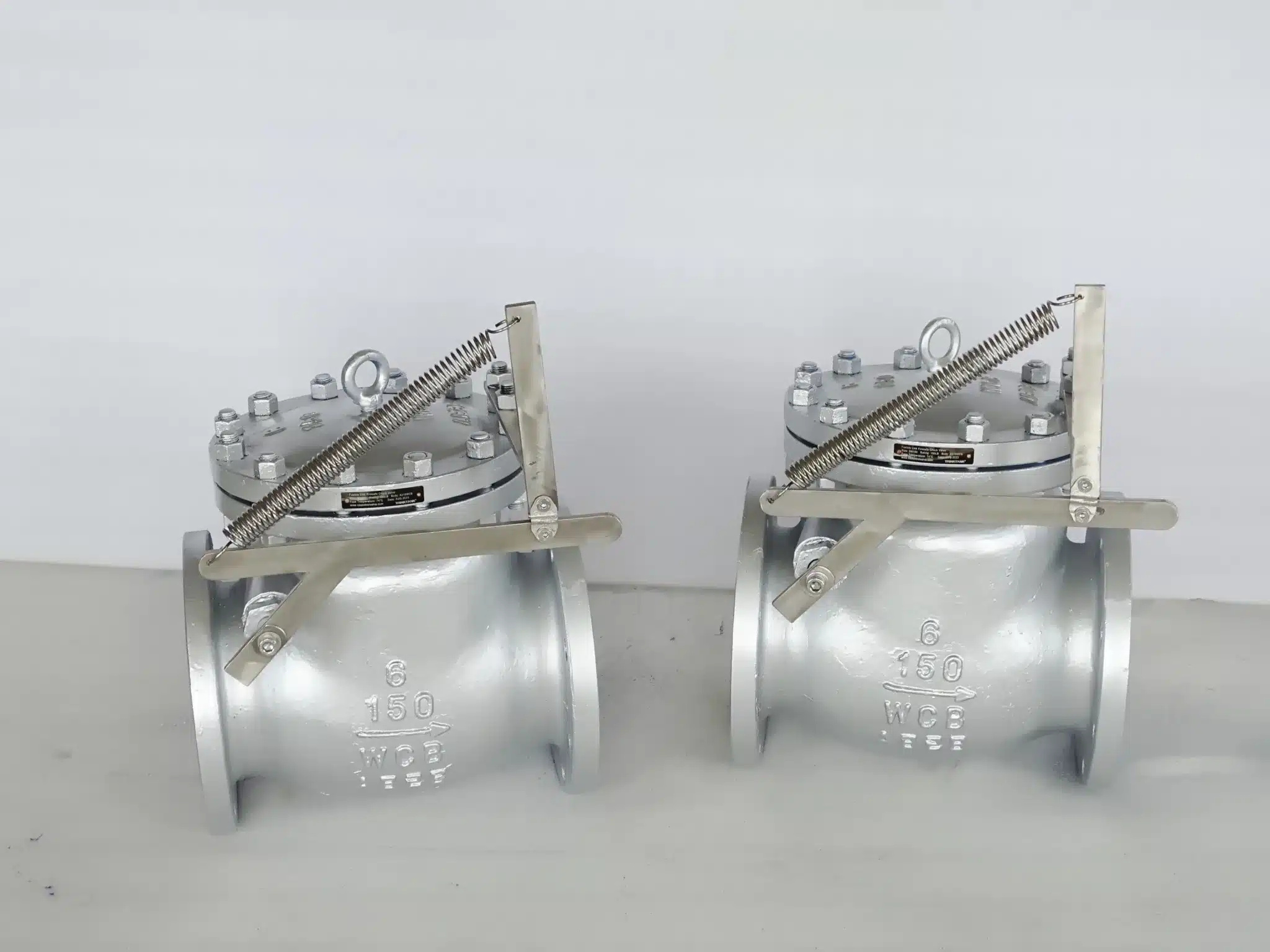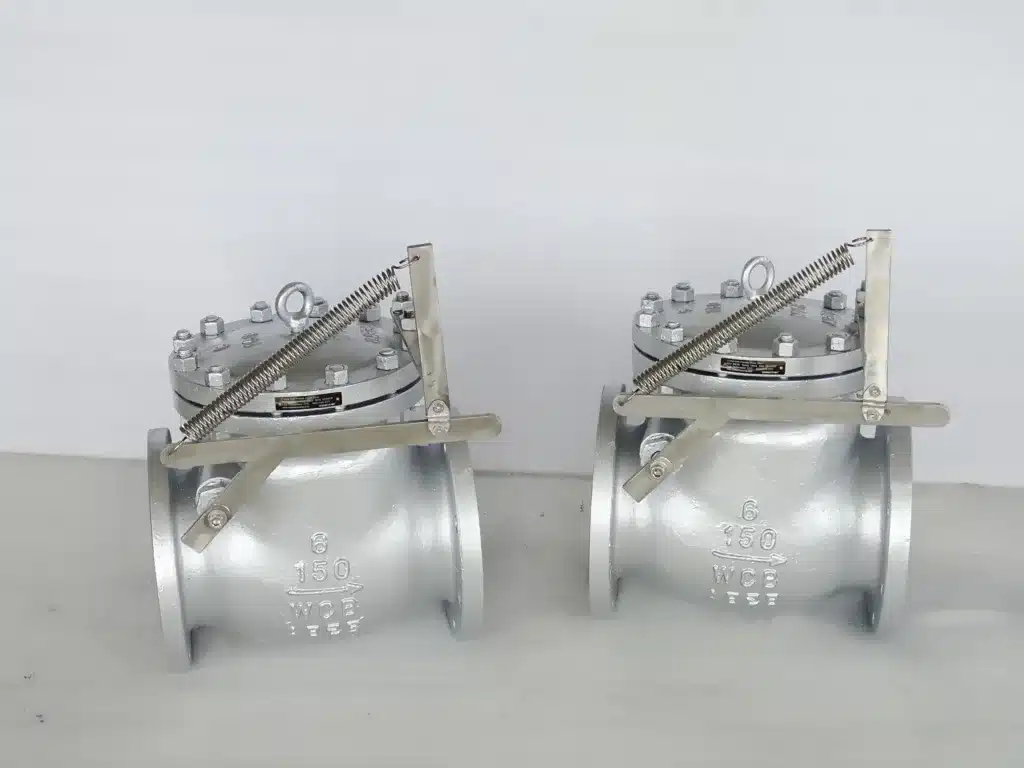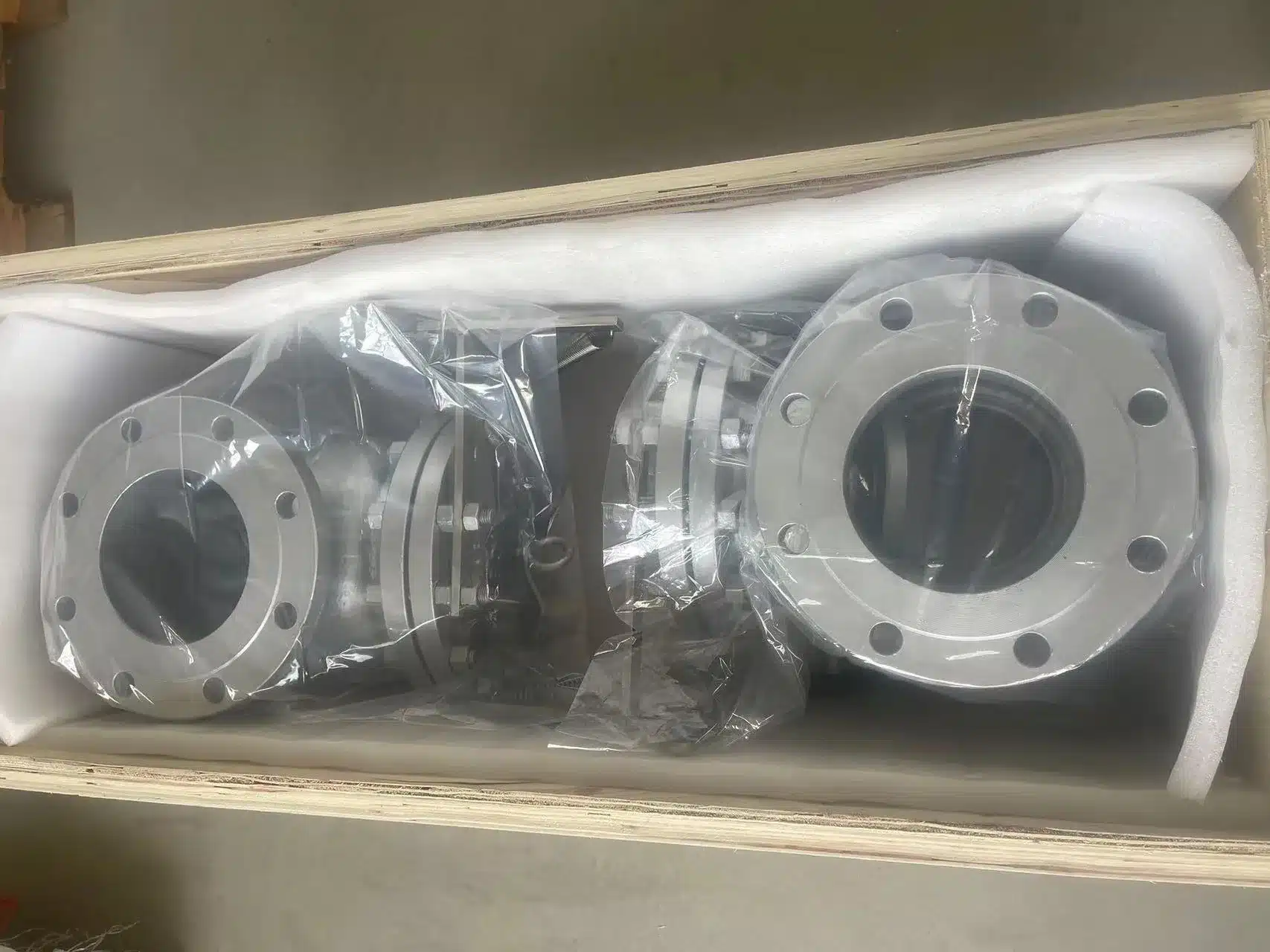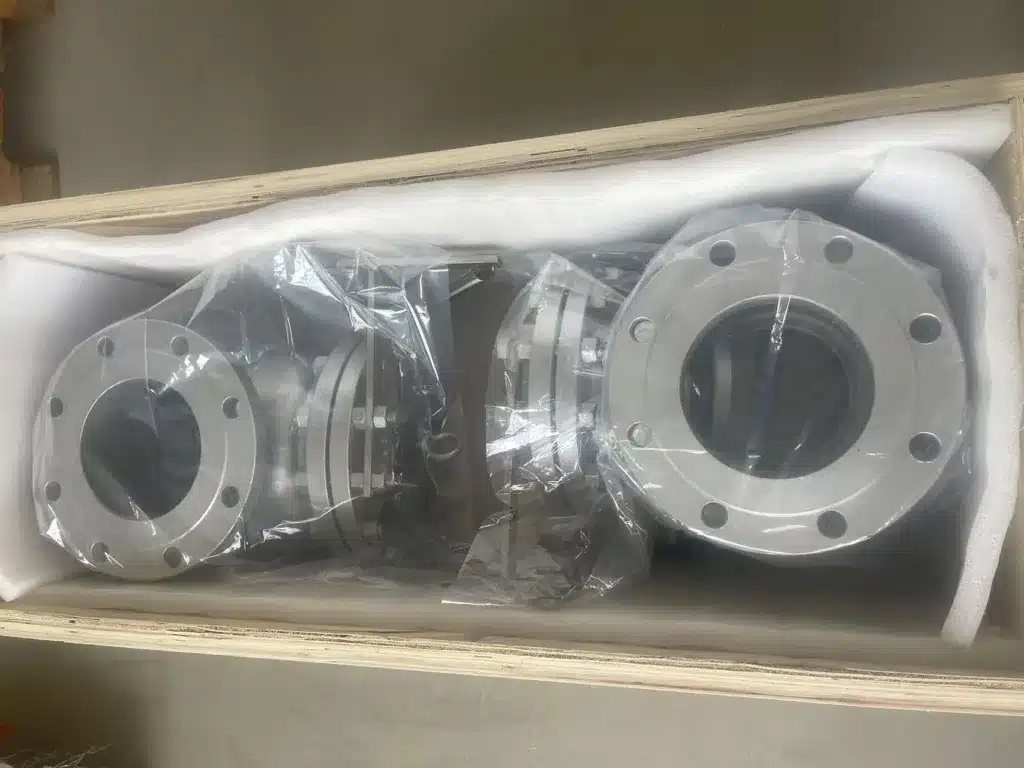 For more detail informations, please just feel free to contact us via email. [email protected]