Description
What is DIN Y Type Filter Valve
A DIN Y-type filter valve, also known as a Y-strainer or Y-type strainer, is a filtering device designed to remove solid particles from liquids or gases within a pipeline system.
The Y-type filter valve features a Y-shaped body, which allows fluid to flow through it while trapping debris in a built-in screen or mesh filter element. The design of the Y-strainer enables easy access and removal of the filter element for cleaning or replacement. The Y-shape also helps minimize pressure drops, as it provides a relatively large filtering area while maintaining a compact size.
Application of DIN Y Type Filter Valve
Water and wastewater treatment: Protecting pumps, valves, and other equipment from damage caused by suspended particles in water.
Oil and gas industry: Filtering contaminants from oil or gas to prevent damage to compressors, turbines, and other downstream equipment.
Chemical processing: Removing solid impurities from various chemical substances to maintain product quality and protect processing equipment.
HVAC systems: Filtering debris from heating, ventilation, and air conditioning systems to improve efficiency and extend the life of components.
Food and beverage industry: Ensuring the quality and safety of products by filtering out contaminants during processing.
Technical Specifications
Design standard: DIN EN 13709:2003
Face to face dimension: DIN EN 558-1:1995
Flanged ends: DIN EN 1092-1:2002
Welded ends: DIN EN 12627
Test & inspection: DIN EN 12266:2003
Parts and Material of DIN Y Type Filter Valve
No.
Parts Name
Materials
1
Body
GS-C25/1.0619
CF8/1.4301
CF8M/1.4408
2
Bonnet
GS-C25/1.0619
CF8/1.4301
CF8M/1.4408
3
Plug
A105
SS304
SS316
4
Bolt
A193 B7
A193 B8
A193 B8M
5
Sealing
SS304
SS304
SS316
6
Gasket
Graphite+SS
Graphite+SS
Graphite+SS
7
Screen
SS304/SS316
SS304/SS316
SS316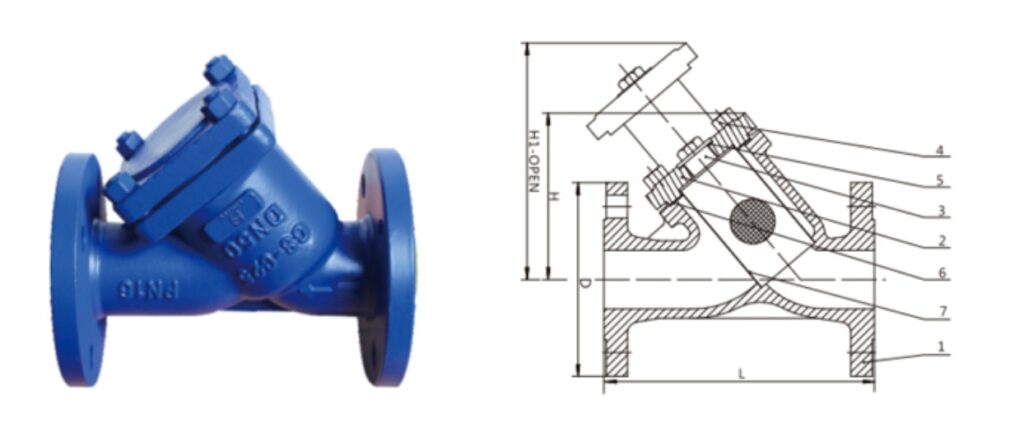 PN16/PN25/PN40
Size DN
15
20
25
32
40
50
65
80
100
125
150
200
250
300
350
400
L RF/BW
130
150
160
180
200
230
290
310
350
400
480
600
730
850
980
1100
H
72
88
105
110
130
140
170
190
240
290
340
425
515
615
725
835
Weight(kg)
PN16
2.5
3.4
4.6
5.5
7.5
9.5
14
17
26
40
62
109
190
250
400
530
PN25
2.5
3.4
4.6
5.5
7.5
9.5
15
18
27
44
64
116
205
280
440
580
PN40
2.5
3.4
4.6
5.5
7.5
9.5
15
18
28
45
65
119
210
290
450
600
Kvs(m3/h)
6.3
11
17.5
28
44
69
118
178
270
420
620
1100
1700
2500
3400
4400