The butterfly check valve is often called a dual plate check valve or swing check valve. It's designed to prevent backflow in systems, operating automatically to allow flow in one direction and preventing reverse flow.
What are Butterfly Check Valves
Butterfly check valves, also known as dual-plate check valves or swing check valves, are a specific type of valve in the larger category of non-return or check valves. They play a crucial role in many fluid systems by preventing backflow, which is the undesirable reversal of the flow of fluid.
The 'butterfly' in the name comes from the design of the valve, which typically consists of two semi-circular plates or 'discs'. These plates are hinged down the middle and mounted within the pipeline. When fluid flows in the forward direction, it pushes the two semi-circular plates open, allowing the fluid to pass. When the flow stops or attempts to reverse, the pressure drops, causing the two semi-circular plates to swing back together, effectively blocking the pipe and stopping the fluid from flowing backward. This mechanism operates automatically, driven by the dynamics of the fluid flow itself.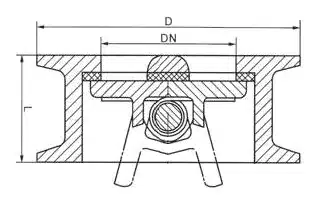 Size
150LB
300LB
600LB
inch
L
D
L
D
L
D
2
60
103
60
110
60
110
21/2
67
122
67
129
67
129
3
73
135
73
148
73
148
4
73
173
73
180
79
192
5
86
196
86
215
105
240
6
98
222
98
250
136
265
8
127
279
127
307
165
319
10
146
339
146
361
213
399
12
181
409
181
422
229
456
14
184
450
222
485
–
–
16
191
514
232
539
–
–
18
203
549
–
–
–
–
20
219
606
–
–
–
–
24
222
717
–
–
–
–
Size
PN1.0
PN1.6
PN2.5
PN4.0
PN6.4
PN10.0
L
D
L
D
L
D
L
D
L
D
L
D
DN50
60
109
60
109
60
109
60
109
60
115
60
122
DN65
67
129
67
129
67
129
67
129
67
140
67
147
DN80
73
144
73
144
73
144
73
144
76
150
73
157
DN100
73
164
73
164
73
170
73
170
79
177
79
183
DN125
86
194
86
194
86
197
86
197
105
213
105
220
DN150
98
220
98
220
98
227
98
227
136
250
136
260
DN200
127
275
127
275
127
287
127
293
165
313
165
324
DN250
146
330
146
332
146
343
146
355
213
364
213
394
DN300
181
380
181
387
181
403
184
450
229
424
229
458
DN350
184
440
184
447
184
460
222
478
–
–
–
–
DN400
191
492
191
498
191
518
232
549
–
–
–
–
DN450
203
542
203
558
203
568
–
–
–
–
–
–
DN500
219
597
219
620
219
624
–
–
–
–
–
–
DN600
222
698
222
734
222
734
–
–
–
–
–
–
Purpose and Role of Butterfly Check Valves in Preventing Backflow in Fluid Systems
The primary purpose of butterfly check valves, like all check valves, is to ensure unidirectional flow of fluids in a system. They prevent the backward flow or backflow of fluids, which is critical in many fluid systems to maintain efficiency, protect equipment, and avoid potential disasters.
Maintaining Efficiency
In many fluid systems, it's crucial to maintain a steady, unidirectional flow. Reversals in flow can create inefficiencies, increase wear and tear on equipment, and in some cases, cause system failures. Butterfly check valves ensure that fluids continue to move in the intended direction, even when the pressure changes, thereby maintaining the system's overall efficiency.
Protecting Equipment
Backflow can cause significant damage to equipment that's designed to handle fluid moving in one direction only. For example, pumps and compressors could be damaged by backflow. By preventing backflow, butterfly check valves help to extend the lifespan of these and other pieces of equipment.
Preventing Contamination
In systems where different fluids might interact, backflow can lead to contamination. This is particularly crucial in industries like water treatment, food and beverage production, and pharmaceutical manufacturing. In these cases, butterfly check valves help ensure product integrity by preventing fluid mixing.
Avoiding Potential Disasters
In certain systems, like those dealing with hazardous materials, backflow could potentially lead to a dangerous situation. By ensuring unidirectional flow, butterfly check valves play a role in preventing such disasters.
Working Principle of Butterfly Check Valves
The butterfly check valve, also known as a dual plate check valve, has a unique yet simple mechanism that is designed to allow flow in one direction while preventing backflow. Here's a step-by-step breakdown of how this mechanism works:
Forward Flow
When there is forward pressure in the pipeline (i.e., the fluid is flowing in the intended direction), this pressure pushes against the two semi-circular 'butterfly' plates, which are hinged in the center of the valve. The plates swing open around the hinge, like a pair of double doors, allowing the fluid to pass through.
No Flow or Reverse Flow
When the fluid flow stops or attempts to reverse, the pressure against the plates drops. The plates, due to the hinge mechanism, swing back to their original closed position. In some designs, a spring mechanism may assist in closing the plates. This effectively blocks the pipe and stops the fluid from flowing backward.
Sealing
To prevent any leakage, butterfly check valves often have a resilient seat that provides a tight seal when the plates close. The interaction between the 'butterfly' plates and the seat ensures that there is no backward leakage, even when there is pressure from reverse flow.
Automatic Operation
The entire operation of the butterfly check valve is automatic, driven by the dynamics of the fluid flow itself. There is no need for an external power source or manual operation, making butterfly check valves a highly efficient and low-maintenance option for preventing backflow in fluid systems.
This mechanism combines simplicity with efficiency, providing reliable backflow prevention with a low-pressure drop and a compact design. This makes butterfly check valves a popular choice for a wide variety of applications across many industries.
Industries and Systems Where Butterfly Check Valves are Used
Butterfly check valves are versatile and can be found in a wide range of industries and systems due to their ability to prevent backflow efficiently. Here are a few examples:
Water and Wastewater Treatment
In water treatment plants, butterfly check valves are often used in pumping systems to prevent the backflow of water. They ensure that treated water doesn't flow back into the treatment system, maintaining the integrity and efficiency of the treatment process.
Oil and Gas Industry
Butterfly check valves are integral to pipeline systems in the oil and gas industry. They prevent the reverse flow of oil or gas, thereby protecting pumps and other components of piping system that could be damaged by backflow.
Power Generation
Power plants, especially those that utilize steam (such as nuclear and coal-fired plants), use butterfly check valves in their piping systems to control the direction of fluid and prevent backflow of steam, which is crucial for safe and efficient operation.
In chemical processing plants, butterfly check valves are used to prevent the backflow of chemicals, thus ensuring the safety and efficiency of chemical reactions and preventing potential contamination or hazardous situations.
HVAC Systems
In heating, ventilation, and air conditioning (HVAC) systems, butterfly check valves can be used to ensure that air and coolant flows in the correct direction, improving the efficiency of the system.
Real-World Examples of Applications
New York City Water Supply System
One of the largest water supply systems in the world, this system uses various types of valves, including butterfly check valves, to control and direct the flow of water throughout the city. These valves are crucial to preventing backflow and ensuring that the water supply is safe and reliable.
Gulf of Mexico Oil Platforms
Oil platforms in the Gulf of Mexico and other oil-rich regions around the world use butterfly check valves in their complex pipeline systems to prevent the backflow of oil. This ensures the efficient and safe extraction and transportation of oil.
These examples highlight the importance and versatility of butterfly check valves. Regardless of the industry or application, these valves play a crucial role in ensuring fluid flows in the correct direction, improving efficiency, and preventing potential damage or hazards.
Advantages of Using Butterfly Check Valves
Compact Design
Butterfly check valves, with their dual plate configuration, have a shorter face-to-face dimension compared to other check valves, making them compact and easy to install in limited space.
Lower Pressure Drop
Due to their design, butterfly check valves tend to have a lower pressure drop across the whole valve body when open, leading to more efficient fluid flow.
Quick Response to Flow Reversal
The lightweight dual plates of the butterfly check valve respond quickly to changes in flow direction, providing prompt backflow prevention.
Versatility
Butterfly check valves are suitable for a wide range of applications and can handle different types of fluids, including liquids, gases, and semi-liquids.
Durability
The robust design and use of resilient materials in butterfly check valves make them highly durable, with the ability to withstand demanding operational conditions.
Comparison with Other Types of Non-Return Valves
| | | | | | |
| --- | --- | --- | --- | --- | --- |
| Item | Butterfly Check Valve | Swing Check Valve | Lift Check Valve | Piston Check Valve | Ball Check Valve |
| Design | Compact, dual plates | Single, swinging disc | Piston or ball lifted by flow | Piston with dashpot | Ball lifted by flow |
| Pressure Drop | Low | Moderate-High | Moderate | Low-Moderate | Moderate |
| Response to Flow Reversal | Quick | Slower than butterfly valve | Moderate | Slow (regulated by dashpot) | Moderate |
| Maintenance | Low | Moderate-High | High | Moderate-High | Moderate |
| Cost | Generally lower | Moderate-High | High | Moderate-High | Moderate |
Please note that the selection of a non-return valve type depends on several factors, such as the nature of the fluid, the operating pressure and temperature, installation space, and specific system requirements. It's always recommended to consult with a valve professional to select the appropriate valve type for each unique application.
Important Factors to Consider When Choosing Butterfly Check Valves for Various Applications.
Type of Fluid
The nature of the fluid (liquid, gas, or semi-liquid), its temperature, and its corrosive or abrasive properties can influence the choice of material for the butterfly check valve. Some materials may be more suited to specific types of fluids to ensure long-term performance and durability.
Operating Pressure and Temperature
The operational conditions in the system, such as the pressure and temperature, will influence the choice of butterfly check valve material. Certain materials and designs can better withstand high pressures and temperatures.
Desired Level of Leak Tightness
The desired level of leak tightness for butterfly check valves, like any other valve, will largely depend on the specific application. However, as a general rule, butterfly check valves should ideally provide a tight seal to prevent backflow when in the closed position.
Installation Space
Butterfly check valves are known for their compact design face dimensions, making them suitable for systems where space is limited. However, the specific dimensions of the installation space should still be considered when selecting a valve.
Flow Characteristics
The expected flow rate, pressure drop, and frequency of flow reversal can affect the performance of the valve. For systems with frequent flow reversals, a butterfly check valve with a low cracking pressure might be advantageous.
DN/mm
NPS/inch
Fluid resistance coefficient when the valve is fully open
Water flow coefficient with valve fully open at room temperature
Direction of Flow of Fluids
Kv(m3/h)
Cv(U.S)
Cv(U.K)
↑
→
Opening pressure approximation KPa
DN50
2"
2.6
63
74
62
2
1
DN65
21/2"
2.4
109
128
107
2
1
DN80
3"
2.3
172
201
169
2
1
DN100
4"
2
289
338
283
2
1
DN125
5"
1.8
476
557
466
2
1
DN150
6"
1.5
750
878
735
2
1
DN200
8"
1.3
1432
1675
1403
2
1
DN250
10"
1.2
2330
2726
2283
2
1
DN300
12"
1
3676
4301
3602
2
1
DN350
14"
0.9
5274
6171
5169
2
1
DN400
16"
0.8
7306
8548
7160
3
1
DN450
18"
0.8
9246
10818
9061
3
1
DN500
20"
0.8
11415
13356
11187
3
1
DN600
24"
0.7
17573
20560
17222
3
1
DN700
28"
0.7
23919
27985
23441
4
1
DN750
30"
0.7
27458
32126
26909
4
1
DN800
32"
0.7
31241
36552
30616
4
1
DN900
36"
0.7
39539
46261
38748
4
1
DN1000
40"
0.7
48814
57112
47838
4
1
DN1050
42"
0.7
53817
62966
52741
4
1
DN1200
48"
0.7
70292
82242
68886
4
1
Industry Standards and Regulations
Depending on the industry and the region, there may be standards, specifications and regulations that dictate the use of certain types of valves or specific materials. Always ensure that the chosen valve complies with these regulations.
Maintenance and Cost
Consider the ease of maintenance and the total cost of ownership, including initial costs and potential future maintenance costs. Butterfly check valves are generally low maintenance and cost-effective, but individual models may vary.
Valve Quality
Ensure that the valve is sourced from a well-tested and reputable manufacturer and meets quality standards. The performance and lifespan of the valve can significantly impact the overall efficiency and safety of the system.
By considering these factors, you can choose a butterfly check valve that is best suited to your specific application, thereby ensuring optimal performance and durability.
Conclusion
Butterfly check valves, with their dual-plate design, compactness, and quick response to flow reversal, have found widespread applications across industries including water treatment, oil and gas, power generation, chemical industries, and HVAC systems.
Whether it's maintaining the efficiency of a system by ensuring a steady, unidirectional flow or preventing potential equipment damage and contamination, the benefits of using butterfly check valves are undeniable. Their comparison with other types of non-return valves highlights their advantages in terms of design, pressure drop, flow reversal response, maintenance, and cost.
However, when selecting a butterfly check valve for a specific application, important factors such as the type of fluid, operating pressure and its temperature range, installation space, flow characteristics, industry standards, and regulations, maintenance and cost, and valve quality should be considered.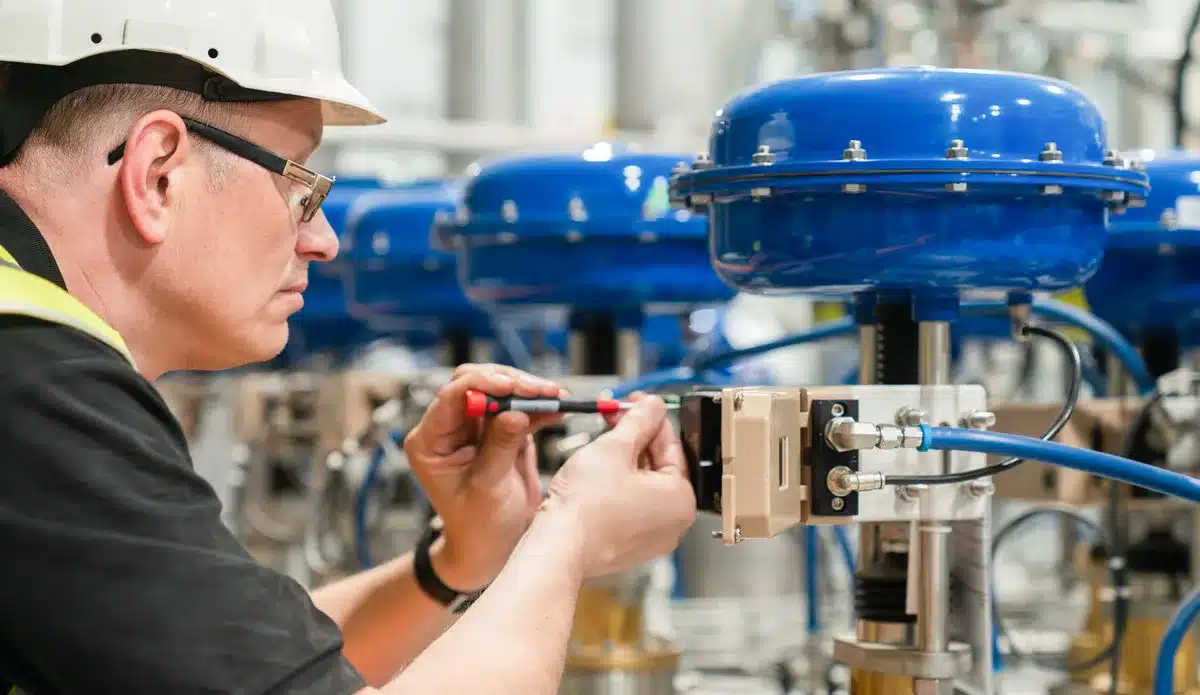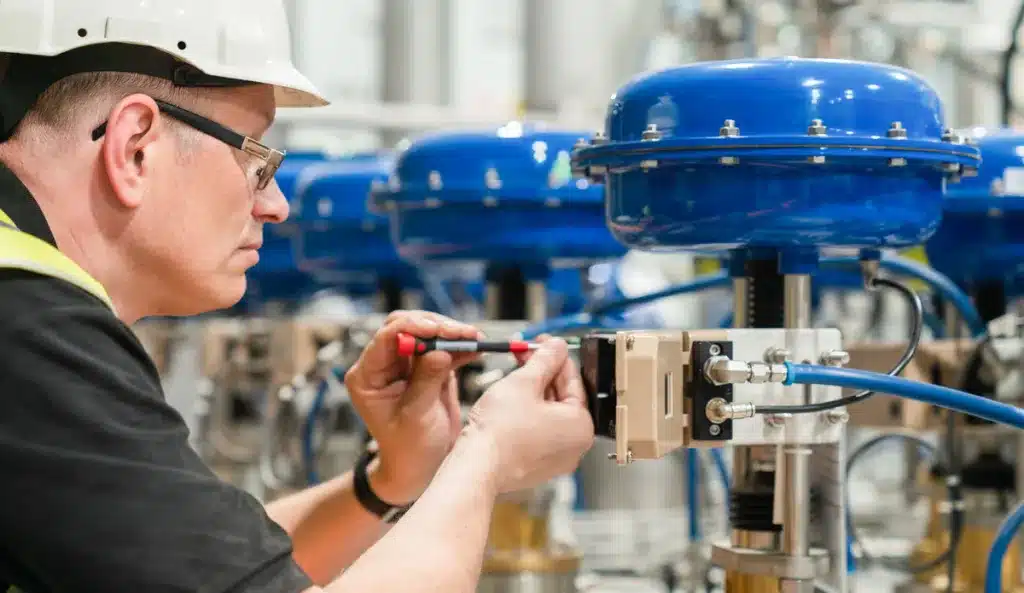 As a reliable manufacturer and supplier in the valve industry, THINKTANK provides high-quality butterfly check valves designed to meet these diverse requirements. Our valves are recognized for their smooth surfaces and durable construction, designed to withstand varying operational conditions. We're proud to serve many international well-known brands, providing OEM services that meet specific operational needs. With a reputation built on quality, innovation, and customer satisfaction, THINKTANK is a trusted partner for all your butterfly check valve needs.