Today, we are talking about the most common type of diverter valves for powder pneumatic conveying systems. The main diverter valves are three-way ball type diverter valves and three-way plug type diverter valves, their function is to switch the flow direction of materials in pipelines. The completely sealed structure can be used in outdoor environments. THINKTANK produces various types of diverter valves for switching various materials, including 45° powder diverter valve, 60° powder diverter valve, 120° powder diverter valve, 135° diverter valve, ball type, plug type, rotating plate type, double channel type, swing gate type, and other switching valves.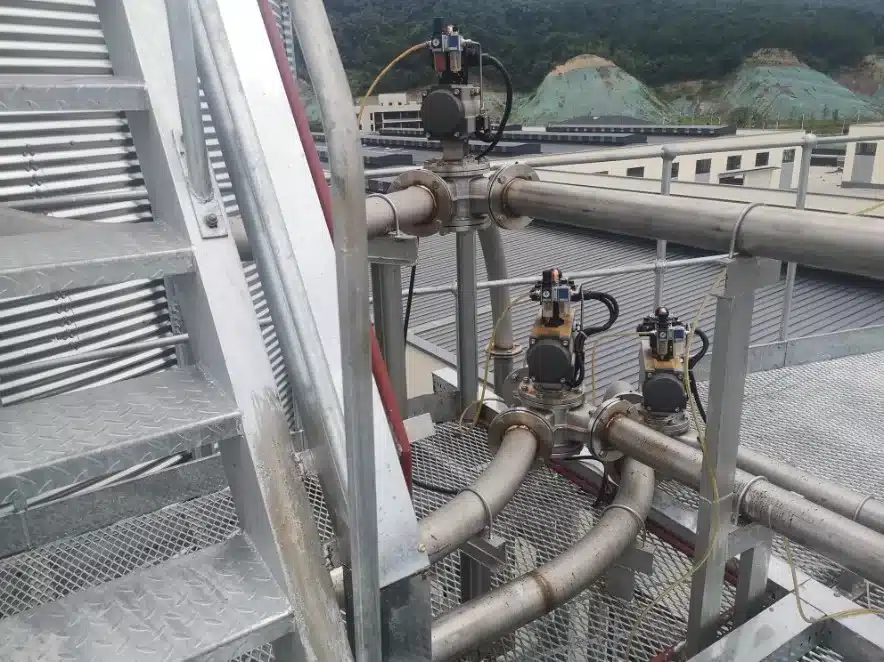 What are Diverter Valves
Diverter valves play a critical role in managing the flow of materials in various systems, especially in industries where the controlled routing of powders and granular materials is essential. These valves are the most common but very important part of the manufacturing and processing industries, because they are not only efficiently switching material flow paths without interrupting the conveying process, but also ensuring plants' efficient, safe, and contamination-free handling of products.
Purpose of Diverter Valves
The primary purpose of diverter valves is to allow for the directional control of a material flow. They can shift the flow between two exits or combine two flow ports into one. In powder pneumatic conveying systems, such for chemicals, minerals, plastic or acrylic particles, or food items through pipes, these valves allow accurate delivery of these powders to various parts of the processing factory.
Types of Diverter Valves in Powder Conveying
This guide our engineer will focus on four specific types of diverter valves that are commonly used in powder conveying systems:
1. Three-Way Y Type Ball Diverter Valve
Three-way ball type diverter valve (powder three-way ball valve) is mainly composed of a valve body, an valve cover, an actuator, limit switch, solenoid valve and other accessories. The three-way ball type diverter valve is used to switch pipelines in powder conveying systems, it has completely sealed structure that suitable for outdoor environment.
From the angle of the pipelines of the three channels, we can divide it into two types of valve body structures: 120° Y-type three-way ball valve and 135° angle three-way ball valve. The Y-type three-way ball valve has a flat flow channel and small fluid resistance, also has strong circulation capacity.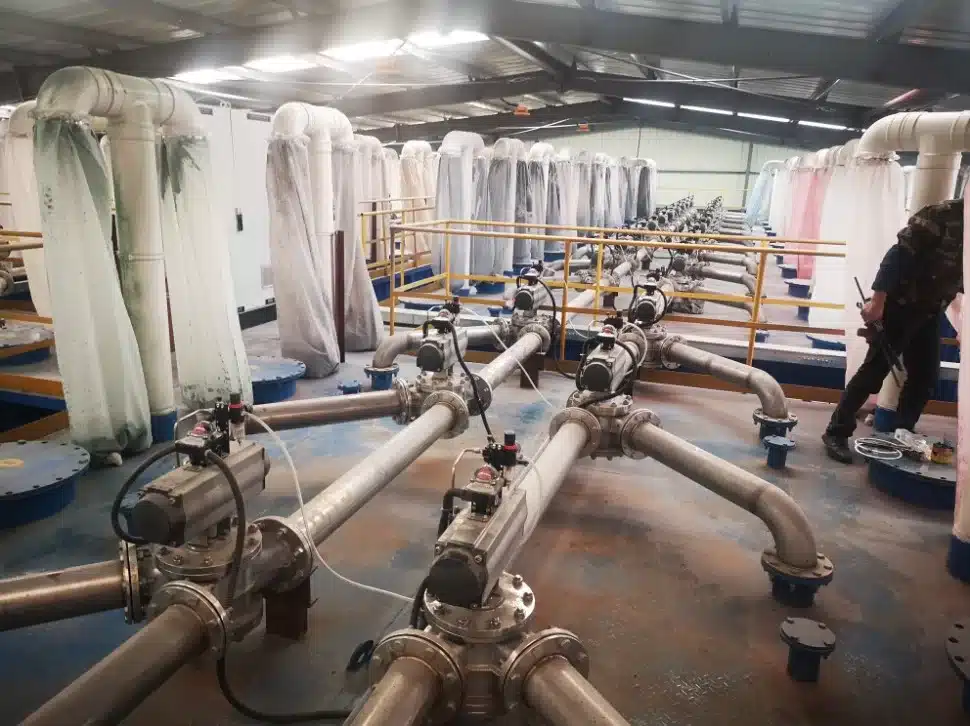 Specification
Nominal Diameter: DN50-DN250
Valve Body Material: WCB, 304, 316
Connection Ends: Flanged Ends, Welded Ends or Others
Nominal Pressure: PN1.6 to 4.0MPa, Class 150LB to Class 300LB
Structural Type: Y type 120 degrees, Y type 135 degrees
Valve Trim
Seat Sealing PTFE: -30℃ to 180℃
Seat Sealing PPL: -30℃ to 250℃
Metal to Metal: -30℃ to 450℃
Seat/Ball: Surface Spray Welding, Tungsten Nitride
Valve Trim Material: SS304, SS316, SS316 or Others
Stem Material: SS304 or Others
Applicable Media: Powder, Water, Liquid, Gas, etc.
Performance
The flow channel has 120/135 degrees switching, with flat flow channel, low resistance and strong circulation capacity
No media retention
Soft seal maximum temperature 250 degrees
Metal to metal maximum temperature up to 425 degrees
Leakage: zero leakage
Hysteresis: ±2.5%
Design & Manufacturing Standard
Design & Manufacturing Standard: GB/T12238-2008
Connection Standard:JB/T 79.1-1994
Face to Face:GB/T12221-2005
Hydraulic Pressure Test and Inspection:GB/T13927-2008
Pneumatic Actuator
Double Acting:Air to Open, Air to Close, Fail to Last Position
Air to Open(Spring-Return/Singl-Acting): air to open the valve, air failure then valve close
Air to Close(Spring-Return/Singl-Acting): air to close the valve, air failure then valve open
Option Accessories: solenoid valve, limit switch, air filter regulator, valve positioner, handwheel mechanism, and air lockup valve.
2. Three-Way Plug Type Diverter Valve
Three-way plug type diverter valve are special equipment used in the conveying system of solid materials (powder, granular material, powder mixture, flake material) to switch the flow direction of materials in pipelines. Three-way plug diverter valve's channels are distributed at different angles, with one inlet and two outlet or two inlet and one outlet. The pneumatic actuator is controlled by switching the solenoid valve, so that the material can be switched to different pipes. The two positions of the valve channels are detected by the limit detection switch, which is directly installed on the pneumatic actuator. When the valve is operating normally, the valve plug rotates to one position. After the reversing command is issued, it moves to another position, and the reversing action is completed.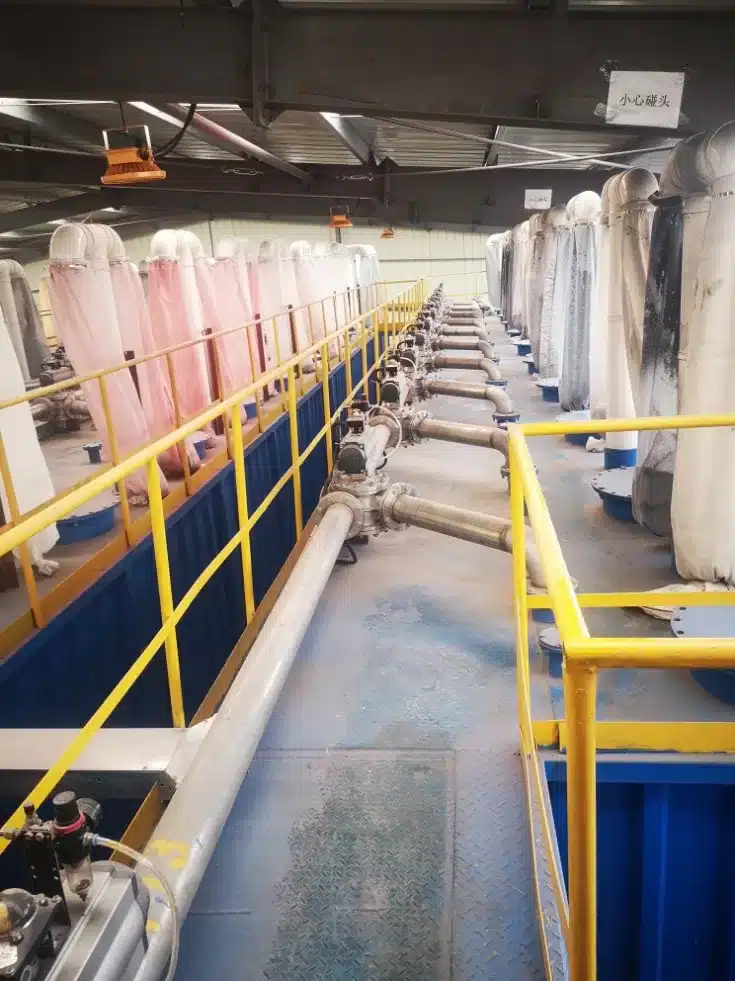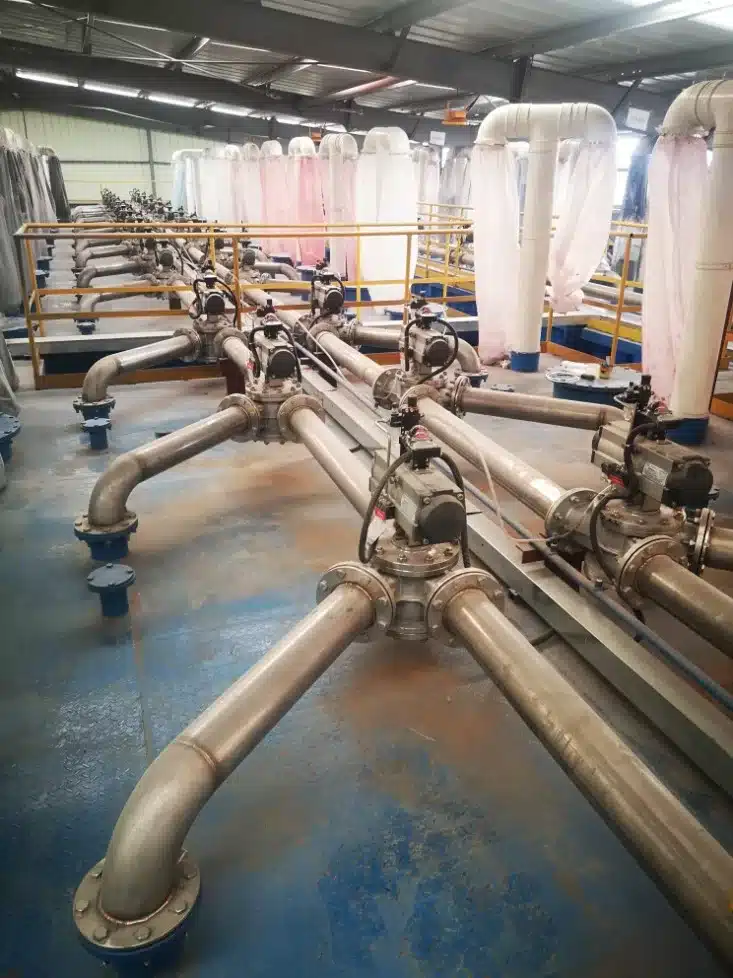 Characteristics of THINKTANK Three-way Plug Valve
Suitable for switching and conveying powder and granular materials
The special structure can meet the customer's requirements for material switching
The shell and main parts are made of compact casting, with solid structure, high strength, not easy to deform, and beautiful appearance
Multiple angle designs can meet the switching needs of pipelines at various angles
The conveying channel is smooth and clean, ensuring smooth flow of materials and preventing blockage
The polishing accuracy can reach 400#, which can meet the requirements of food grade and pharmaceutical grade. It is suitable for conveying food grade and pharmaceutical grade materials
Users can choose the appropriate installation angle according to the needs of the transportation pipeline
A variety of materials can be selected according to customer requirements: stainless steel (SS304, SS304L, SS316, SS316L), carbon steel, etc.
In situations where pressure sealing is required, a special sealing structure can be configured to fully meet the usage requirements
Automated control system ensures efficient operation and reliability
There are multiple driving modes to choose from: manual and pneumatic
The complete pneumatic control system can improve the level of automation and ensure efficient operation reliability
Work Pressure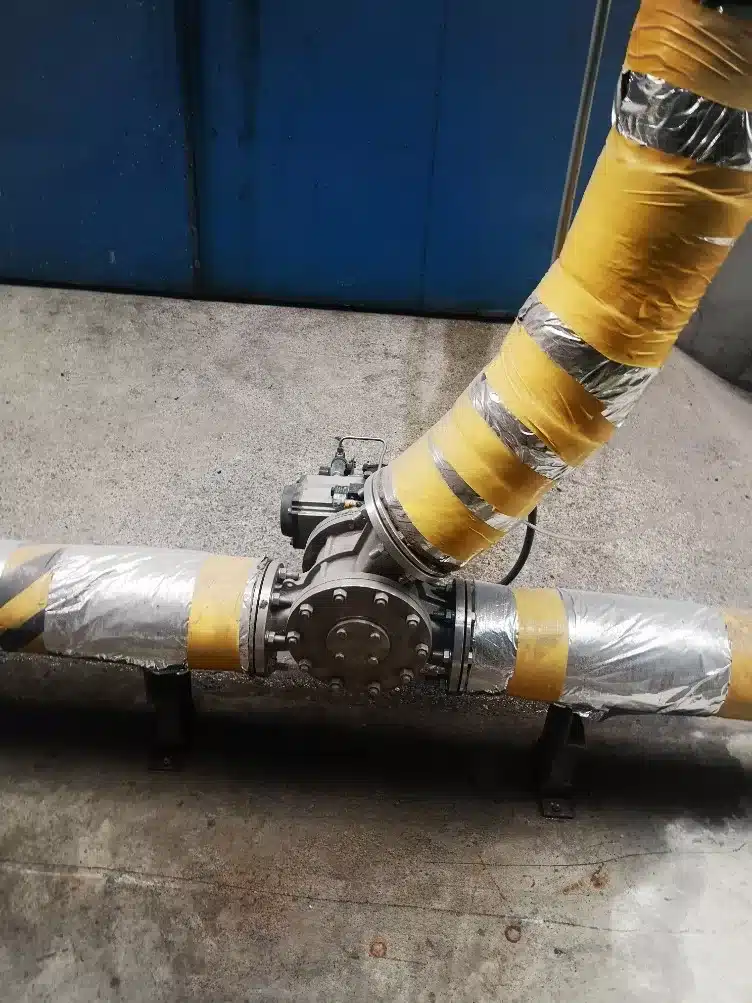 ATM<0.1Mpa
0.15~0.35Mpa
HP>0.35Mpa
Working Temperature
-20 to +200℃/≤500℃
Pipe Angle
30° 30°
45° 45°
60° 60°
Size: DN50 to 800(2" to 32")
Material: SS304, SS316L,WCB
Flanged Ends: ANSI B 16.5 150LB, GB, HG, SH or designed by the client
Applicable working conditions
Gravity discharge divertering, pneumatic conveying pipeline divertering
Applicable media
Solid materials (powder, granular materials, powder-grain mixtures, flakes, etc.)
3. Aluminum Swing Gate Diverter Valve
The swing gate diverter valve is make of aluminum material, which is used for its light weight and resistance to corrosion, this type of valve is ideal for handling certain types of powders.
Swing gate diverter valves are used in a wide variety of pneumatic conveyor applications. The valve can be used in either a positive or negative pneumatic conveyors. The aluminum swing gate diverter valves are designed with one diversion leg offset 30° from the straight through leg.
Function of Swing Gate Diverter Valve
The two-channel swing gate diverter valve meets the requirements of pneumatic conveying equipment to redirect powder, chips or particles from one discharge point to another, with the lowest pressure drop and high sealing efficiency.
The swing gate diverter valve uses a swingable flap to transfer material from one pipe to another. The flap diverter valve is installed in the pneumatic conveying pipeline where materials need to be switched to different production lines.
Features
Shell material: cast aluminum alloy
Sealing: EPDM
Metal plate: 304 stainless steel
Operating temperature: – 20~80℃
Working pressure: maximum +2.0bar and -0.3bar
Diameter Swing Gate Option: 50mm, 65mm, 80mm, 100mm, 125mm, 150mm, 200mm
Operation
Pneumatic Actuator: with limit switch (used for various models to indicate switch position) and solenoid valve( power supply available 24 V AC, 110 V AC, 230 V AC, 24 V DC)
Electric Actuator: Supply Voltage: 230/400 V AC 50/60 Hz
Manual Operator
Advantages of Aluminum Swing Gate Diverter Valve
Steering angle is smaller, only 22.5°
The steering influence is small and the pressure drop is not large.
Smooth inner surface (no material accumulation points)
Modular design, small number of components and easy maintenance
Light weight and compact structure
Quick connection of components via DIN/ANSI flange
Made of food-grade certified boards, pollution-free
THINKTANK's powder three-way swing gate diverter valve adopts precision casting and has beautiful appearance. It can transport chemical raw materials activated carbon powder, alumina, silica, bentonite, industrial dyes and pigments, dye powder, toner powder, plastic polyethylene particles, rubber granules, cement particles, welding powder, quartz particles, etc. The powder three-way swing gate diverter valve adopts a pneumatic control system to ensure efficient operation and reliability, and can also be configured manually operating device.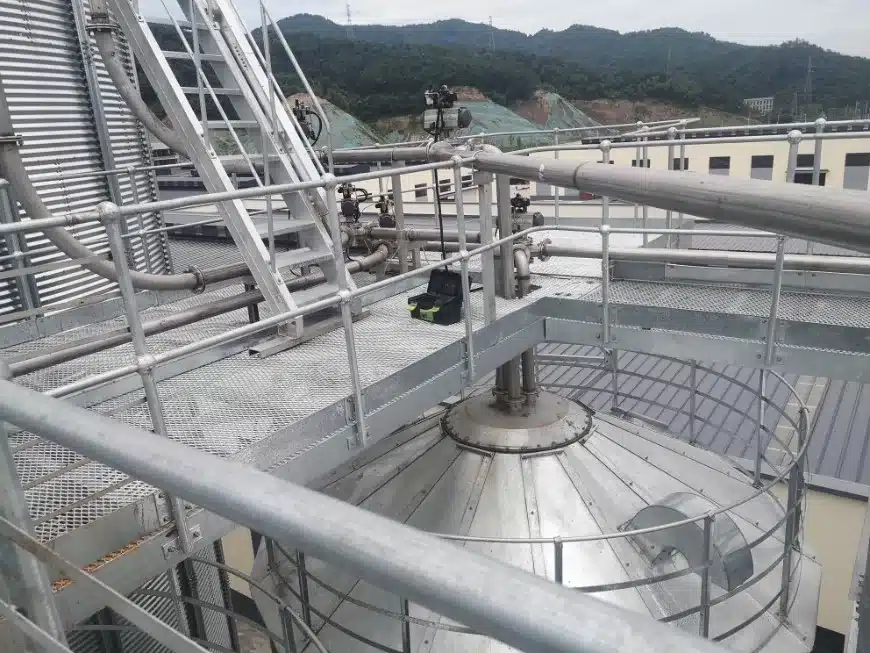 Three-way Y type ball Diverter valve VS. Three-way plug Diverter valve
The sealing performance of the three-way ball valve is better than that of the three-way plug valve. It not only ensures the sealing performance of the material in the switching direction, but also ensures that the gas is transported without too much loss to ensure that the flow rate of the transported raw materials is maximized. But its disadvantage is that the cost is relatively high, about twice as expensive as the three-way plug valve. If there are no very high requirements for the overall conveying performance, we recommend that the front and rear ends of the entire system be equipped with three-way ball valves, and three-way plug valves should be used at each stage of diversion and reversal. This can greatly reduce the entire production cost. For details, please refer to the following site layout diagram designed by THINKTANK.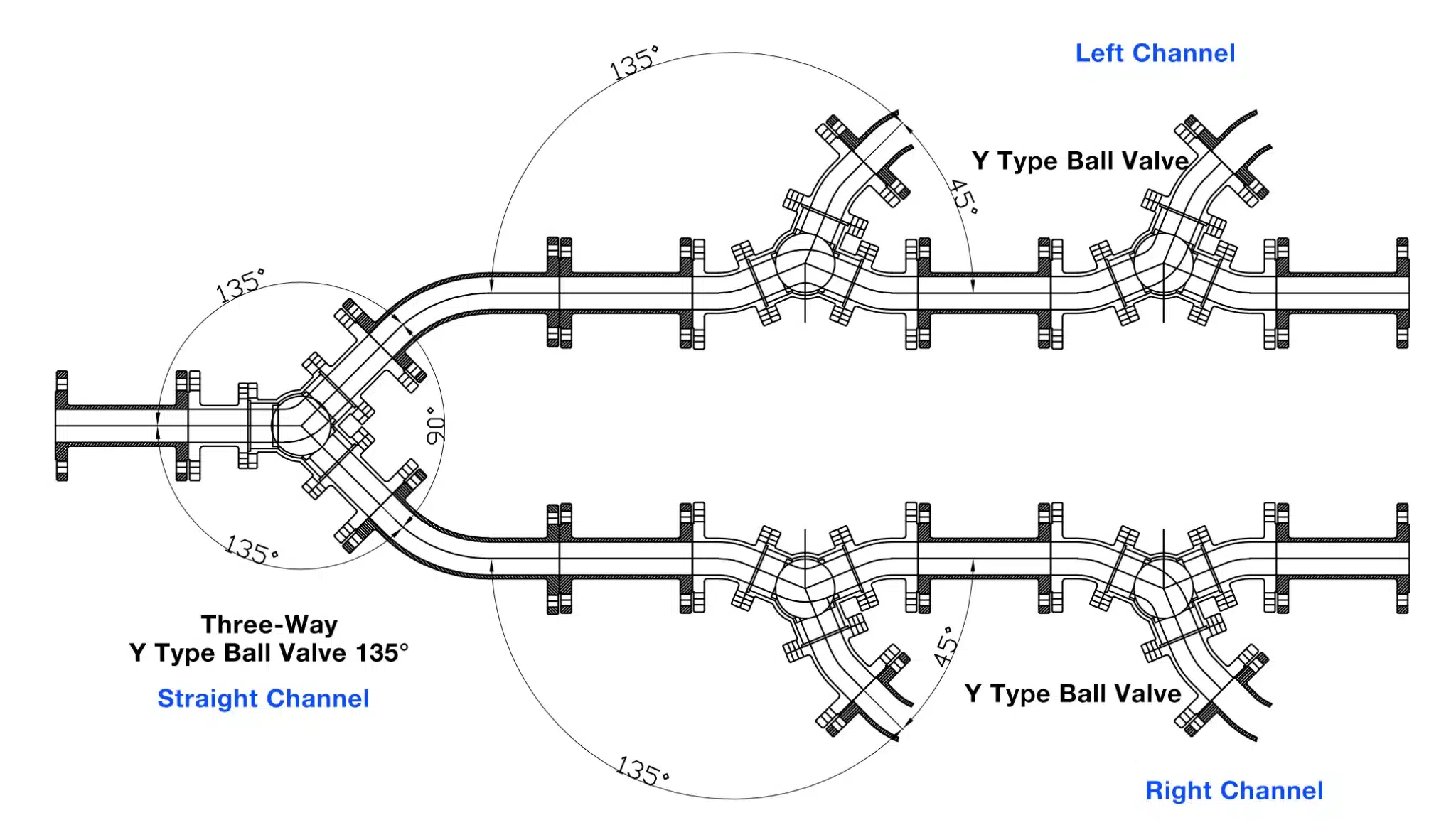 As mentioned above, the three-way plug valve has the characteristics of high cost performance, but it is not suitable for fine dust media. Since it has a certain leakage rate, if it is an extremely fine dust medium, there will be gas and flow problems during the reversal. Loss, so that during long-distance transportation, the transportation flow will gradually weaken. But for media particles larger than 5mm, such as plastic particles, we suggest that the three-way plug valve will be a good substitute for the three-way ball valve.
THINKTANK is a manufacturer specializing in the production of diverter valves. If your system needs to be customized or you have questions related to it, please contact our sales representatives and we will be happy to serve you.