Description
ET Series Pneumatic globe type control valves are used in steam conditions, also can throttling or on-off control of a wide variety of liquids and gases. ET series designs include single ports, balanced valve plugs, and cage guiding. Metal to PTFE seating for stringent shutoff requirements is standard in all valves, and metal to metal seating for high temperature is standard for valves with Cavitroll cages.
Performance:
Multiple trim material options
Interchangeable, restricted capacity trims, and full-sized trims to match variable process flow needs.
Different cage/plug styles provide particular flow characteristics for highly specialized applications. The standard cage comes in three different flow characteristics: quick-opening, linear, or equal percentage.
To help eliminate cavitation damage in a properly-sized valve, a standard-travel, Cavitrol III,
one-stage cage (figure 9) and a long-travel, CavitrolIII, two-stage cage are available in the NPS 1 through NPS 8 ET control valve.
Technical characteristics:
Sizes: 1/2", 3/4", 1", 1-1/2", 1-3/4", 2″, 3″, 4″, 5",  6″, 8″
Ratings: up to ANSI 150, 300, 600
Connection: Flanged, butt-welded, socket-welded, and threaded
Leakage Standard: ANSI/FC, IEC60534-4
Flow direction: flow to open, flow to close
Materials: A216 Cr. WCB, SS304, SS316, CF8M, CF3M, CF3, CF8, LCB, LCC, 2205, Duplex stainless steel etc.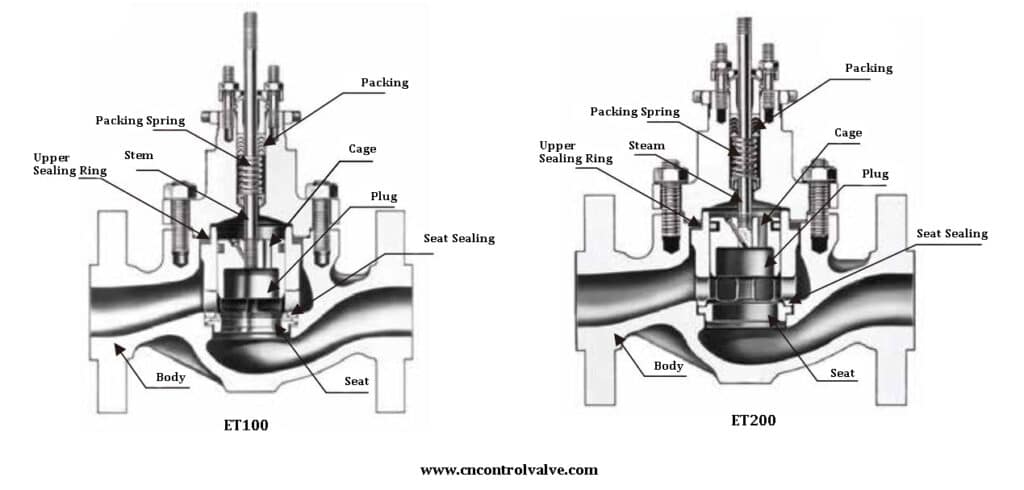 Flow Coefficient

Valve Size
DN
Max. Stroke
Valve Opening
mm
inch
mm
inch
10
20
30
40
50
60
70
80
90
100
FL
Quick Opening
Cv
1
33.3
1.3125
19
0.75
4.86
9.39
13.4
16.9
18.9
20.3
21.1
21.8
21.9
22.1
0.81
1 1/2
47.6
1.875
19
0.75
7.79
14.4
20.5
26.8
32
36.6
39.4
41.3
42.7
44
0.79
1 1/2
33.3
1.3125
19
0.75
5.05
9.99
14.7
20
24
25.7
26.2
27.4
28.6
29.9
0.88
2
58.7
2.3125
29
1.125
13.4
26.8
39.9
51.3
62.9
70.6
73.7
75.6
76.8
77.6
0.77
2
33.3
1.3125
19
0.75
4.8
9.58
14.9
20.2
25.7
29.3
31.2
31.2
31.2
31.2
0.87
2 1/2
73
2.875
38
1.5
20.9
39.6
58.8
74.2
84.9
97
103
106
108
109
0.81
2 1/2
47.6
1.875
19
0.75
7.83
15.2
22.8
31
40
48.3
54.9
60.3
66.4
71.2
0.86
3
87.3
3.4375
38
1.5
27.2
52.2
77.9
99.5
124
140
149
154
158
161
0.77
3
58.7
2.3125
29
1.125
15.9
31.7
47.2
60.7
74.4
83.6
87.3
89.5
91
91.9
0.86
4
111.1
4.375
51
2
37.7
75
125
163
193
220
238
247
251
251
0.79
4
73
2.875
38
1.5
25
47.2
70.1
88.5
101
116
123
127
129
130
0.89
6
177.8
7
51
2
73.6
150
232
306
353
389
416
441
451
460
0.82
6
111.1
4.375
51
2
52.3
101
150
199
247
284
310
329
345
358
0.87
8
203.2
8
51
2
80.3
188
290
389
480
554
615
658
705
744
0.87
8
203.2
8
76
3
135
291
434
551
639
706
759
807
841
863
0.85
Linear
Cv
1
33.3
1.3125
19
0.75
3.21
5.5
8.18
10.9
13.2
15
16.9
18.6
19.9
20.6
0.84
1 1/2
47.6
1.875
19
0.75
4.23
7.84
11.8
15.8
20.4
25.3
30.3
34.7
37.2
39.2
0.82
33.3
1.3125
19
0.75
2.92
5.7
9.05
12.5
15.6
18.5
21.1
23.9
26.8
29.2
0.91
2
58.7
2.3125
29
1.125
7.87
16
24.9
33.4
42.1
51.8
62
68.1
70.6
72.9
0.77
33.3
1.3125
19
0.75
3.53
6.36
9.92
13.3
16.5
19.7
22.7
25.6
29.3
33.3
0.87
2 1/2
73
2.875
38
1.5
9.34
21.6
35.5
49.5
62.7
74.1
83.6
93.5
102
108
0.81
47.6
1.875
19
0.75
4.1
8.09
12.3
16.7
21.1
26.8
33.7
41.3
49.2
57
0.84
3
87.3
3.4375
38
1.5
14.5
32.9
52.1
70.4
88.5
105
118
133
142
148
0.82
58.7
2.3125
29
1.125
8.06
16.9
26.7
37.5
49
61.4
73.8
85.3
94.7
102
0.85
4
111.1
4.375
51
2
23.3
50.3
78.1
105
127
152
181
203
223
236
0.82
73
2.875
38
1.5
9.77
22.6
37.2
51.8
65.7
77.5
87.5
97.9
107
113
0.84
6
177.8
7
51
2
46.3
107
171
228
279
327
367
402
420
433
0.84
111.1
4.375
51
2
16.7
38.6
65.4
93.7
123
156
194
244
290
322
0.88
8
203.2
8
51
2
60.2
129
206
285
363
444
526
581
640
688
0.87
8
203.2
8
76
3
91.4
207
325
440
550
639
711
760
795
846
0.87
EQ%
Cv
1
33.3
1.3125
19
0.75
0.783
1.54
2.2
2.89
4.21
5.76
7.83
10.9
14.1
17.2
0.88
1 1/2
47.6
1.875
19
0.75
1.52
2.63
3.87
5.41
7.45
11.2
17.4
24.5
30.8
35.8
0.84
1 1/2
33.3
1.3125
19
0.75
1.12
1.56
2.22
3.1
4.27
6.17
9.01
13.1
18.2
23.1
0.91
2
58.7
2.3125
29
1.125
1.66
2.93
4.66
6.98
10.8
16.5
25.4
37.3
50.7
59.7
0.85
2
33.3
1.3125
19
0.75
0.923
1.42
2.09
2.84
4.11
5.83
8.58
12.8
18.5
24.3
0.88
2 1/2
73
2.875
38
1.5
3.43
7.13
10.8
15.1
22.4
33.7
49.2
71.1
89.5
99.4
0.84
2 1/2
47.6
1.875
19
0.75
1.57
2.57
3.82
5.44
7.64
11.5
18.2
26.7
35.1
43.9
0.89
3
87.3
3.4375
38
1.5
4.32
7.53
10.9
17.1
27.2
43.5
66
97
120
136
0.82
3
58.7
2.3125
29
1.125
1.75
3.11
4.77
7.07
10.7
17
27.9
41.5
58
70.7
0.87
4
111.1
4.375
51
2
5.85
11.6
18.3
30.2
49.7
79.7
125
171
205
224
0.82
4
73
2.875
38
1.5
3.82
7.65
11.4
16.9
25.5
38.2
60.5
85.7
105
112
0.89
6
177.8
7
51
2
12.9
25.8
43.3
67.4
104
162
239
316
368
394
0.85
6
111.1
4.375
51
2
5.4
10.1
15.8
26.7
45.2
71.2
111
169
232
274
0.88
8
203.2
8
51
2
18.5
38
58.4
86.7
130
189
268
371
476
567
0.85
8
203.2
8
76
3
27
58.1
105
188
307
478
605
695
761
818
0.86