Description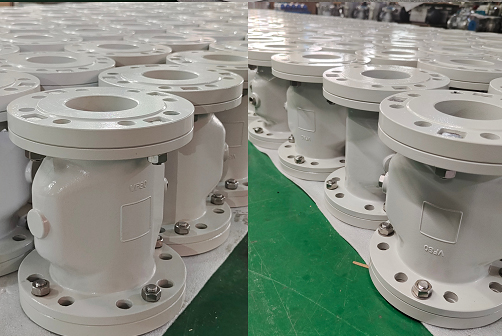 Specifications
Body Material: Cast Iron, Cast Steel, Aluminium
Size: DN25 to DN1000
Nominal Pressure: PN16
Valve Type: Straight Through
Max. Working Pressure: 2.5MPa
Max. Shutoff Differential Pressure: 0.25MPa
Full Travel Loading Time(Open to Close): ≤3S
Effective Diameter: 25 to 1000mm
Leakage Class: IV. (Refer to standard API598)
Connection Type: Flange
Sleeve Materials For Pinch Valves
Sleeve Material
Suitable Temperature
Typical Medium
Application
SBRT
Styrene Butadiene,
Flowrox Blend
'-40°C  to +110°C
Abrasive materials, diluted acid, alkali and chemical applications
Heavy wearing
High cycle frequency
EPDM
Ethylene Propylene
40°C to +120°C
Concentrated and oxidizing chemicals
Chemical applications
– Applicable to 75% of all
industrial chemical applications
NBR
Nitrile Rubber
-30°C to +100°C
Oils, fats, fuels, hydrocarbon, lubricants
Applications involving oils, fats
and hydrocarbon
NR
Natural Rubber
'-50°C to +75°C
Abrasive materials, diluted acids, alkali a chemicals
High wear applications
HNBR
Hydrogenated
Nitrile
-30°C to +160°C
Oils, fats, fuels hydrocarbon, lubricants
High temperature applications
NRF
Natural Rubber
Foodstuff Quality
White inner lining
-40°C to +75°C
Media used in food and other CIP (clean-in-place) processes, alcohol
Foodstuff applications
-Fulfils FDA Food and Drug Administration) requirements
NBRF
Nitrile Rubber
White inner lining
-30°C to +100°C
Vegetable and animal oils and fats
Applications involving fatty foodstuff
-Fulfls FDA (Food and Drug Administration) requirements
EPDM/B
Ethylene Propylene, Blend
-40°C to +100°C
Green liquor, alkaline and extraneous matter in green
liquor processes
Pulp and paper industry's
green liquor application
CR
Chloroprene Rubber
-40°C  to +100°C
Chemicals, acids, several solvents, aliphatic oils, fats,
lubricants
Special-purpose chemical applications
-Resilient to ozone and averse
weather
 FPM
Fluorine Rubber
(Viton⑧)
-20°C to +120°C
Chemicals, aliphatic oils, aromatic and halogenated hydrocarbon
Special-purpose chemical applications
-Resilient to ozone and averse weather
CSM
Chloro-sulphone-ethylene(Hypalon@)
-40°C to +100°C
Chemicals, acids, several solvents, aliphatic oils, fats, lubricants
Special-purpose chemical applications
-Resilient to ozone and averse weather
IIR
Butyl
-40°C to +100°C
Concentrated and acidic chemicals, vegetable oils
Special-purpose chemical applications
-Impermeable to gas
PU
Polyurethane with
PU lining
-10°C to +80°C
Abrasive materials, diluted chemicals, hydrocarbon, oils, lubricants
Abrasive media applications
Parts of Manual Pinch Valves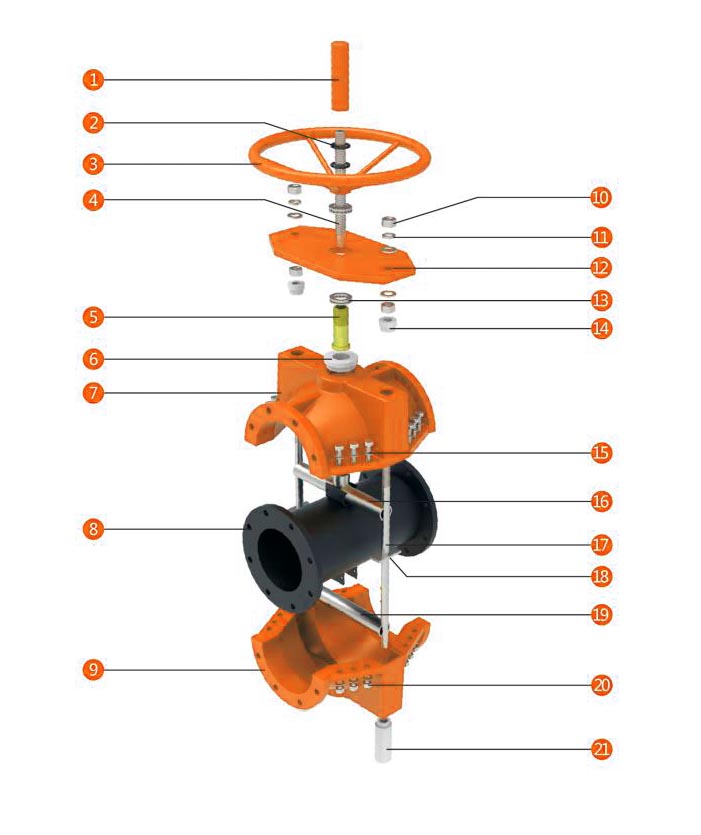 | | | | | | |
| --- | --- | --- | --- | --- | --- |
| No | Part Name | No | Part Name | No | Part Name |
| 1 | Protective Cover | 8 | Sleeve | 15 | Bolt |
| 2 | Retaining Ring | 9 | Lower Body | 16 | Upper Pinch Bar |
| 3 | Handwheel | 10 | Nut | 17 | Side Guide |
| 4 | Stem | 11 | Gasket | 18 | Block |
| 5 | Stem Nut | 12 | Bracket | 19 | Lower Pinch Bar |
| 6 | Centre Bushing | 13 | Thrust Bearing | 20 | Nut |
| 7 | Upper Body | 14 | Upper Guide Bushing | 21 | Lower Guide Bushing |
What are the Primary Factors Influencing Pinch Valve Quality?
Pinch valve is consist of four components: valve body, sleeve, opening and closing mechanism, and driving device.
The sleeve is the key to the quality of the pinch valve, and the major variables influencing its quality are raw materials, rubber synthesis formula, processing technology, sleeve thickness, and wear-resistant anti-corrosion layer uniformity.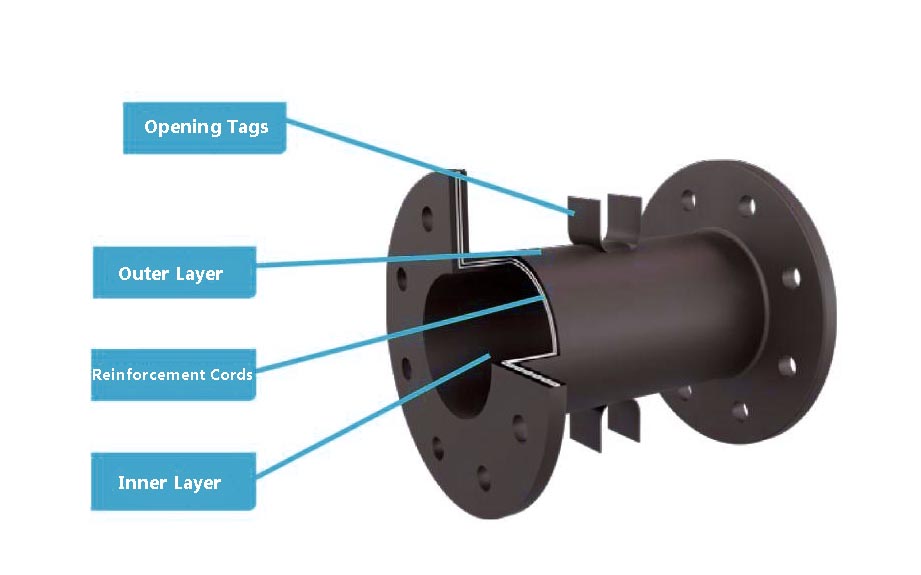 The following are the 5 reasons for pinch valve quality issues.
Insufficient natural raw rubber content and excessive regenerated rubber, which cause rubber loss, significant wear & tear, and short service life.
Incorrect rubber composition causes poor wear resistance, and acid & alkali resistance.
The sleeve manufacturing method impacts the quality of the valve; the molded rubber sleeve wear layer is prone to uneven thickness, resulting in thin areas that are easily broken. To provide a wear-resistant layer, a pure handmade rubber sleeve is used, and the thickness of the sandwich layer is consistent. The useful life has significantly enhanced.
Rust on the valve body, and damage to the opening and closing mechanisms, cause the valve to shut too tightly or not completely close, resulting in unsatisfactory valve usage.
Power sources such as pneumatic and electric actuators. THINKTANK is an independent research and development manufacturer of pneumatic actuators to satisfy the torque of pinch valves with a CE certificate.